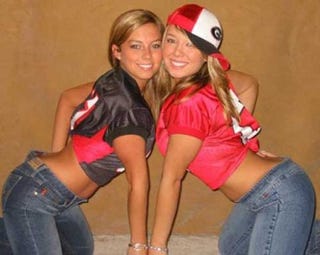 The big showdown between the Daniels and the McCoys comes your way this evening. Meanwhile, couple of early shoot-outs going on between Syracuse/South Florida and Texas's A&M and Tech, and Georgia is up a touchdown on Jay Cutler's
alma mater
. Was it obvious there I have no idea what I'm talking about? Hope not. Here's some funny from those that do:
And Pam Ward continues her streak of calling Northwestern games and wasting an ESPN2 slot. She's dressed like a confused 3rd grade teacher.
- drscooter19
I had a dream last night that I checked the score from the football game today against Penn State and we'd lost by some obnoxiously huge number. I just hope there's some shellac left over after the game, I've got some fruit that I'd like to use as decoration for my table.
- fraganhome
The Clemson fans brought "Yabba Dabo Doo!" signs for new coach Dabo Swinney. Considering the way the offense has played, he looks like someone stole his Pebbles.
- Signal2Noise
I really hope that if someone flew him out there, someone in East Lansing kicks Joe The Plumber's ass. That would be awesome.
- AsInHowe
Tech vs. A&M. The last time I saw this much scoring, I had a hidden camera in a Tri-Delt bedroom
. - DoctaJ716
Either Lou Holtz just apologized, or Mushmouth said Fat Albert and Weird Donald were in trouble, I'm not really sure.
- Chad Sexington