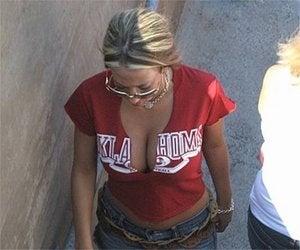 First thing I learned at internet journalism camp - always bookend an upskirt with a downshirt. Maryland continues to only get up for the big games, winning their fifth straight against a top-25er by blanking Wake Forest 29-0. And Matt Grothe went touchdown happy as South Florida smashed Syracuse. In-progress, Ohio State is waaayyy up on Michigan State early, Oklahoma and Kansas are tied at 7 in the first, and Alabama is in tight against Miss after one. Now what do Hugh guys have to say for yourselves?:
Another Alabama game for CBS today, which means Uncle Gary Danielson is already looking in the stands to see if John Parker Wilson's mom is there.
- Signal2Noise
An Eastbound and Down/Smoky and the Bandit referernce? +1, Musberger, +1
- Chilltown
Wow. Outstanding start for Michigan State . . . to their basketball season, anyway.
- kingdonut66
Ed Hochuli's gonna have a full inbox after this KU-OU game
. - 1980DavidBowieFromTheMusicVideoAshesToAshes
Uncle Verne says Joe Willie Namath is at Bryant-Denny today. Tracy Wolfson better watch out for a surprise marriage proposal
. - Signal2Noise