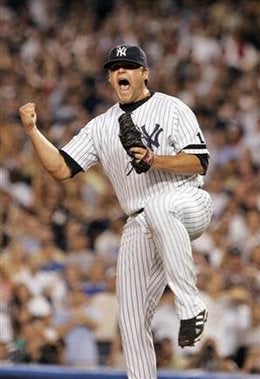 You know the old saying: nothing good ever happens at 1 a.m. in Nebraska. Well, Yankees pitcher Joba Chamberlain found out the hard way last night, as his evening ended with him in handcuffs.
Joba Chamberlain was arrested for driving under the influence early Saturday morning near his hometown of Lincoln, Neb. Deborah Collins, a spokeswoman for the Nebraska State Patrol, said that the 23-year-old Chamberlain was pulled over after being observed speeding in a 2006 BMW 750i shortly after 1 a.m. on U.S. 77. Chamberlain was arrested after an odor of alcohol was detected and an open container of alcohol was observed on the front passenger seat.
As if the Yanks weren't having a hard enough time after a disastrous season, and now helplessly watching as their arch rivals rise from the dead in the ALCS. Charges are expected to be filed on Monday for the 23-year old.
Chamberlain arrested in Nebraska
[The LoHud Yankees Blog]
NOOOOOOO!
[3:10 To Joba]