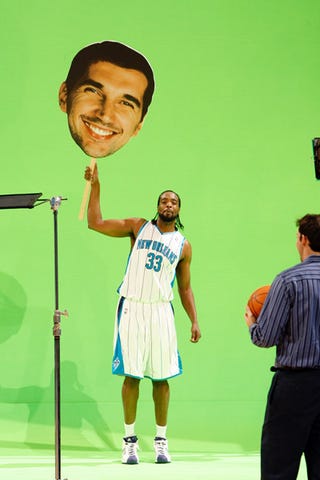 NBA training camps have begun; the season is rapidly approaching. Can you dig it? I knew that you could. And so we continue our previews: 30 of them in 30 days. Up next is a team that's generating a lot of BUZZ! (Sorry. I couldn't stop myself. Again.) They are: The New Orleans Hornets.
When last we saw them:
Finished 56-26, first in the Southwest Division, second in Western Conference. They lost in the Western Conference Semifinals to the desperados from San Antonio.
Welcome to the Big Easy:
Devin Brown, James Posey
Na-na-nah-na, na-na-nah-na, hey, hey, hey, goodbye:
Bonzi Wells, Chris Anderson (CAW!), Jannero Pargo
The Good:
CHRIS PAUL. This kid is like a stick of dynamite covered in napalm and tossed into the
Large Hadron Collider
. This is how good Paul was last season: He was named All-NBA First Team, finished second (to Kobe Bryant) in the MVP voting, led the NBA in assists (11.6) and steals (2.7) and became the first guy in 15 years to average at least 20 points (21.1) and 10 assists. Plus, he got a major experience upgrade in last season's playoffs thanks to matchups against Jason Kidd (whom he destroyed) and Tony Parker (whom he gave a serious noogie). Oh, and then he went out and won a gold medal with Team USA. David West is a monster scoring the basketball (20.6 PPG last season) and on the boards (8.9 RPG). And, uh,
he's a pretty fierce competitor
. Tyson Chandler cleans the glass - he was third in the league in rebounds at 11.7 per game - and
has an ESP-like alley-oop connection with Paul
. Peja Stojakovic can still snipe from long distance (.441 from beyond the arc last year). And, of course, they lured James Posey away from the Boston Celtics this summer. Posey, as everyone knows, is a proven "final piece" to the championship puzzle. He can D-up perimeter players and drain clutch threes without fear. This team made a big jump last season, and they seem prepared to make The Leap.
The Bad:
Depth. As in, they don't have any. Posey will be a terrific sixth man, sure, but peek behind West and Chandler in the front court and you'll see...Julian Wright, Ryan Bowen, Melvin Ely and Hilton Armstrong. Ouch. I mean, yeah, they are (technically speaking) NBA players. But just barely. (Okay, Wright has some nice potential, but he's only a second-year guy who won't be getting a lot of minutes.) The Hornets aren't exactly stocked in the backcourt either: Mike James, Morris Peterson, Rasual Butler, Devin Brown. I mean, the fact that Jannero Pargo's defection to Russia decimated their backcourt depth is a pretty bad sign. (By the way, Jannero, remember that in Russia, basketball plays
you
.) This not only means that the starters will likely be overworked - their "Big Four" averaged between 35 and 37 MPG last season - but also that a serious injury would prove to be a major setback: West's scoring, Chandler's rebounding, Peja's shooting and Paul's everything are all irreplaceable. Paul might be tired from his busy summer (although, fortunately, the dude's only 23 years old). Also, this team doesn't draw many fouls: They ranked 28th in the league last season at 20.8 per game.
Fun Facts:
The franchise, as most of you know, was founded in Charlotte. However, what you might not know is that the team was to be named the Spirit. However, the organization held a name-the-team contest and "Hornets" was chosen. Why? Because of Charlotte's fierce resistance to British occupation during the Revolutionary War, which prompted Lord General Cornwallis to refer to it as "a veritable nest of hornets." This, of course, is less than meaningless now that the team is based in New Orleans, but whatever. Like the Miami Heat, the Hornets retired a number of a player who never even played for them: The Hornets retired Pete Maravich's number 7 during their first game in New Orleans in honor of the Pistol's basketball contributions to the area at LSU and with the city's former NBA team, the New Orleans Jazz. Only one former Hornet is in the Hall of Fame: Robert Parish, who played for the team from 1994-1996 when it was based on Charlotte.
Videotastic extra:
Here's a fun insider's view of the Hornets' training camp. Note that, during shooting contests, Chris Paul isn't above starting over if he misses a couple shots.