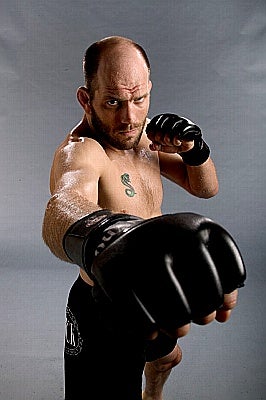 Matt Lindland is a former Olympic silver medalist in wrestling and a current MMA fighter for Affliction. Oh, and he's also running as a Republican for a seat in the Oregon State House. His Democratic opponent in Oregon's District 52 is Suzanne VanOrman. The Fightin' 52nd, you say? Not if Suzanne has anything to say about it. Check out her attack ad:
"For me, the ultimate fight was raising two teenage sons alone." (
Cue ominous music.
)
Scary voiceover guy
: Suzanne VanOrman describes raising two children as the "ultimate fight". Matt Lindland, on the other hand, saves his fighting for the ring. Can we really afford
another
child abuser in the State House? (
Cue soothing music.
)
Matt Lindland
: As an Olympic medalist in wrestling and a mixed martial arts combatant, I've fought a lot of people in my life. But unlike my opponent, I have never,
ever
fought my own children. If elected, I promise to keep the battles where they belong: the House floor. Not the living room. Also, what's with her glasses? Stupid. I'm Matt Lindland, and I approve this message.
Matt Lindland Runs For Office, Opponent Attacks Him for Being an MMA Fighter
[Fan House]