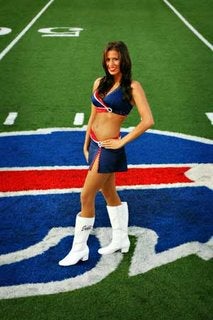 • San Diego at Buffalo:
As reader The Fan's Attic points out, the important thing to remember here, kids, is that despite the numerous power outages in the arena during this game, the suggestive dancing
never stopped
: "Bills cheerleaders continued their routines along the sidelines." USA! USA! USA! (By the way, the Bills are leading by 23-14 late in the fourth quarter, and Trent Edwards has had himself one heckuva day.)
• New Orleans at Carolina:
Unless something cataclysmic happens in the next few minutes, the Panthers should be moving to 5-2 on the season very soon. They've dominated the Saints for much of the game, and New Orleans hasn't been able to do much of anything this afternoon.
• Minnesota at Chicago:
Despite Adrian Peterson's two touchdowns (and 100+ yards on the day), Chicago has pulled away from the Vikes at Soldier Field...However, a Gus Frerotte TD toss to Bernard Berrian has now made it 48-41 for the Bears late in the fourth.
• Dallas at St. Louis:
The Cowboys are getting their asses handed to them, and I personally can't wait until the next installment of
this little series
. Steven Jackson has treated the game as if it were his personal Nike ad, scoring three TD's and amassing 160 yards so far.
• Baltimore at Miami:
This one is a final of 27-13 in favor of the Ravens, who have now reached the .500 mark. Willis McGahee eclipsed the 100 yard mark and scored a TD.
• San Fransisco at NY Giants:
The Giants continue to maintain a relatively safe 10-point lead over the 49ers, with a little over 5 minutes to go in the fourth.