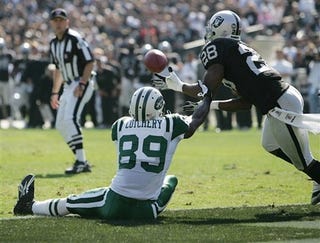 The Packers will keep pace with the Bears in the NFC North. Green Bay has managed to all but shut down Reggie Wayne and Marvin Harrison today, although Dominic Rhodes filled in nicely for the injured Joseph Addai (pronounced "Add-ee-ay", if you're Jeremy Piven). Manning threw a late pick on the goal line that Aaron Rouse returned for a 99-yard TD. 34-7 Green Bay, and it's all but official.
• Cleveland at Washington:
Washington remembered how to score in the second half. Cleveland...not so much. Clinton Portis has reeled off 144 yards and a TD, while Derek Anderson is 9 of 29 for 80 yards. It's back to the waiver pool for you, Horse Balls! Speaking of sucking - Sir!
Step away from the vacuum
! (And of course Anderson has to go and throw a TD just as I'm about to post this. 14-11 Skins, it ain't over yet.)
• Detroit at Houston:
Well, Dan Orlovsky clearly studied game film on what to do when in your own end zone. Last week, he ran out of bounds for a safety. This week, he threw a 96-yard touchdown to Calvin Johnson (and the two converted on the 2-point conversion). The Lions are coming on strong and now trail by only a touchdown. Another Texans collapse, perhaps? The only thing Matt Schaub hears in his headset right now is Sage Rosenfels cackling.
• New York Jets at Oakland:
This was a very ugly game that got kind of exciting down the stretch. Does that mean it was an exciting game? 13-10 Raiders, Favre driving with under a minute left.