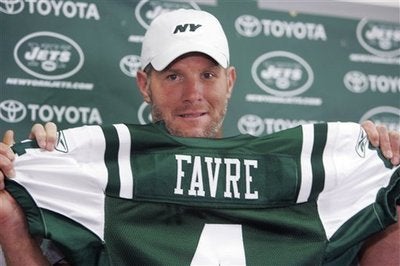 So do you have a problem that you would like Brett Favre to solve? Girlfriend trouble? Confused about which laundry detergent to buy? Hang by your phone, and Brett will be with you momentarily. But first he has to solve the problems of the NFL, like advising Tony Romo on whether or not he should play with a broken pinkie. Also there's this little matter of Favre calling the Detroit Lions and advising them on how to beat the Packers. That was a cold-blooded, Ari Gold-like move to be sure. Fox Sports is reporting that Favre phoned the Detroit Lions prior to their Sept. 14 game with the Packers (Favre was traded to the Jets on Aug. 17), and gave them complete details of Green Bays' offense. Fox is saying that Favre spent more than an hour on the phone with Lions coaches, trying to prepare them for the game. Fox is also saying that there are rumors that Favre has talked to other teams about the Packers. This of course is just fine with his former teammates.
"He contacted them? I don't respect that," Green Bay Charles cornerback Charles Woodson said after the Packers' victory over Indianapolis on Sunday. "If they call him and he gives them information, that's one thing. But to seek a team out and to feel like you're trying to sabotage this team, I don't respect that. I know he's been the greatest player around here for a long time, but there's no honor in that."
Oh, by the way, it was Packers 48, Lions 25. And St. Louis 34, Dallas 14. If Brett calls you, I'd advise letting it go to voicemail.
Is Favre Guilty Of Insider Trading?
[Fox Sports]