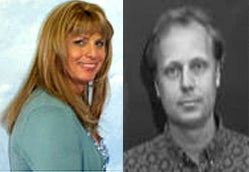 LA Times sports writer Mike Penner made national news last year when he wrote his "Old Mike, New Christine " column about his life as a transsexual and his decision to undergo surgery so he could become "Christine Daniels" for the rest of his journalism career. Well, just like a fickle woman, Mike changed his mind. According to LA Observed via Sports By Brooks , Christine Daniels has been stricken from the record. Kevin Roderick, who first reported the story for LAObserved, said that the LAT has removed many of Penner's old columns which chronicled his transformation into Christine. Also? He scored this quote from the LA Times sports editor Randy Harvey who chose this brilliant method of circumlocution to relay the news:
"We're looking forward to Mike's byline appearing in the paper and on the website with increased frequency. He continues to be a valued member of our sports staff."
Christine Daniels, on the other hand, had trouble meeting her deadline.
Mike Penner returns to Los Angeles Times
[LA Observed]