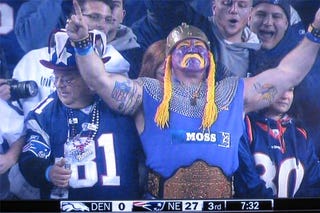 What you missed while contemplating other uses for your banana holder ...
• NBA: Kobe Bryant's season with the Lakers
has started swimmingly
[NBCSports] • NFL: Cowboys fans to get
another generous helping of Tony Romo
on Sunday [USA Today] • NHL: Hey, let's all get
a Barry Melrose Mohawk!
[The Sporting News]
Your About Last Night Wakeup Image is brought to you by one-day-late-but-still-entirely-awesome Don Chavez; a screen capture from Monday night's Broncos-Patriots game. Chavez gives us a full report on Vikings Man later today.