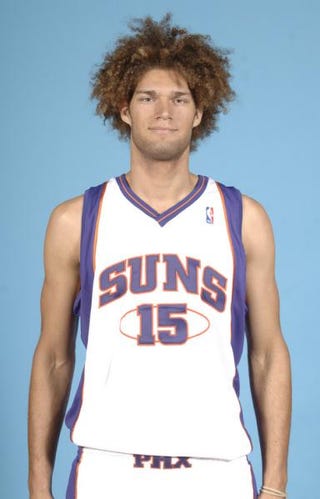 NBA training camps have begun; the season is rapidly approaching. Can you dig it? I knew that you could. And so we continue our previews: 30 of them in 30 days. Up next is a team that proves I can't friggin' spell. (The Magic preview will be up tomorrow.) They are: The Phoenix Suns.
When last we saw them:
Finished 55-27, second in the Pacific Division and sixth overall in the West. Jammed a stake in the heart of the :07 Seconds or Less Era by getting eliminated by the Spurs yet again, this time in the first round of the playoffs.
Into the mix:
Goran Dragic, Louis Amundson, Matt Barnes, Robin Lopez, Sean Singletary
Out of the mix:
Brian Skinner, D.J. Strawberry, Gordan Giricek
The Good:
For some reason, most people regard last season's Suns as some sort of tragic failure, but that's a mindbender to me. Sure, they finished "only" sixth in their conference, but they won 55 games...only two fewer than the first-place Lakers. The Shaq trade knocked them off course at first, but then they won 15 of their last 20 games to finish the regular season. Despite Shawn Marion's early-season malaise and the change of philosophy brought about by Shaq's arrival, the Suns still
led the league
in two-point percentage (53.8), three-point percentage (39.3), overall field goal percentage (50.0), true shooting percentage (59.0) and offensive efficiency (111.2) while ranking third in the league in scoring (110.1). That's a nigh-perfect offensive machine. And it was run, once again, by Steve Nash, who was a half-step slower than previous seasons maybe, but his numbers (16.9 PPG, 11.1 APG) stand up pretty well to his MVP years. And his shooting was out-of-this-reality: He hit 50.4 percent of his shots and - get ready to have your eyebrows singed off - 47.0 percent of his threes. Mind you, Nash has shot 50 percent from the field and 40 percent from downtown in each of his four seasons in Phoenix. I guess what I'm saying is that, when the Martian Men attack, I want Nash aiming our Anti-Alien Invasion Cannon. Amare Stoudemire (25.2 PPG, 9.1 RPG, 59.0 percent shooting) is a certified stat padder. Shaq can still churn out double-doubles - he averaged 12.9 PPG and 10.6 RPG after the trade - while hitting mostly from two feet or less (61 percent post-trade) and filling the paint with his enormous, uh, veteran cunning. Raja Bell is a tenacious perimeter defender and can stick the triple (40.1 percent from threeland last season). Leandro Barbosa is super-quick, Boris Diaw is super-versatile (when he can keep his head in the game), Grant Hill can contribute more leadership and better stats (13.1 PPG and 5.0 RPG) than most washed-up players, Matt Barnes and Robin Lopez will do whatever is asked of them without complaint, and Goran Dragic just might keep Nash from playing too many minutes. Oh, and rumor has it new coach Terry Porter is going to get the team to
play defense
this season. ("Defense" is where you try to keep the other team from scoring, by the way.)
The Bad:
This is a squad that feels like it's already got one foot in the NBA Old Folk's Home: Bell is 32, Nash is 34, Grant Hill is about to turn 36, and Shaq is already 36. There's not much precedent of teams winning with a host of key players already that deep into their dotage. And that age has been harder on Shaq, both mentally and physically. He's missed 86 games over the last three seasons, either because he was injured and couldn't play or because he was consciously saving his legs for the playoffs. Beyond that, The Big Geritol is prone to fouls, turnovers and defensive boo-boos. Despite averaging almost 60 wins over four seasons in D'Antoni's fun 'n gun system, Steve Kerr decided to scrap everything that was amazing about the Suns and turn them into San Antonio Lite. Terry Porter is stressing defense over offense despite the fact that only one or two of the Suns have ever even played defense in their careers. And while that may be a (slight) exaggeration, major philosophical overhauls on veteran teams that are used to playing a certain way often have mixed results. Speaking of which, Kerr has talked openly about limiting Nash's minutes, maybe even keeping him out of entire games. But with Nash on the court last season,
Phoenix scored 15.5 more points per 100 possessions than they did while he was laying on his stomach next to the bench
. And yes: That was the biggest disparity for any player in the league. Stoudemire's productivity was at least partially reliant on the team's breakneck pace. Will he be as effective in a more standard half court game, especially if Porter is managing Nash's floor time? Grant Hill's health is always a question mark (and, natch, he had broken down by playoff time last year). The Suns aren't deep, and they're relying on two rookies - Dragic and Lopez - to bring it off the bench. Yikes.
Fun Facts:
Steve Nash suffers from a medical condition called
spondylolisthesis
, a chronic and incurable condition that causes mild-to-severe muscle tightness and back pain. (Which is why you'll see Nash sprawled out next to the bench when he's out of the game.) This fact has always been treated rather casually, considering that players like, say, Kobe Bryant stop the world if they hurt, say, a pinky finger that doesn't seem to affect them in any way. The Suns ranked second in blocked shots last season (6.3 per game), a pretty amazing feat for a team that didn't play D. Amare Stoudemire
has committed 589 personal fouls
over the last two seasons. That's 18 more than any other player in the league. In their 40 years of existence, the Suns have posted 17 50-win seasons, made eight trips to the Western Conference Finals, and reached the NBA Finals in 1976 and 1993. Still no championships, though.
Videotastic extra:
Pat Burke may not be with the Suns anymore - is he even in the league? - but I'll never forget his hair restoration tonic...