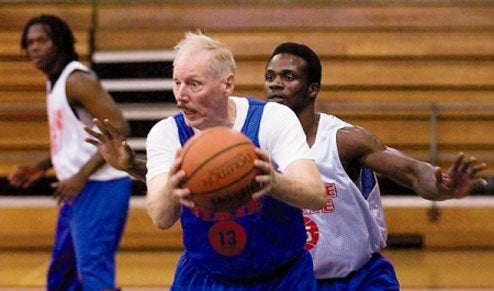 Who says college basketball doesn't have great seniors anymore? Meet smooth shooting two guard Ken Wink from Roane State (TN) Community College in Tennessee. Experts say he reminds them of young Jerry West—except that he's actually three years older than Jerry West is now. Mink, a spry 73 years old, actually started his college career at Lees (Ky.) Junior College—in 1956!—but got kicked off the team for "allegedly" soaping the coaches' office with shaving cream. What a whippersnapper! But after raining down some threes in his driveway the wily cager tied an onion to his belt and sent a Western Union to the local gymnatorium instructors asking for another shot at college basketball glory.
Mink said he spent the better part of last summer in the gym at Knoxville's Central Baptist Church. "On the average, I was in there seven or eight hours a week, running, playing and getting myself in shape,'' Mink said. "I knew I'd be going to school and playing, so I have to have my stamina built up pretty good.'' Mink said he played on a senior Olympic team this summer (3-on-3, half-court), finishing second in state tournaments in Tennessee, Kentucky and West Virginia. "And I won the Tennessee state free-throw championship this year by hitting 19 of 20,'' he said.
Were they underhand? •
Still shooting at 73
[Knoxville News-Sentinel] •
Who's Up For Some Old Man Ball?
[Rush The Court]