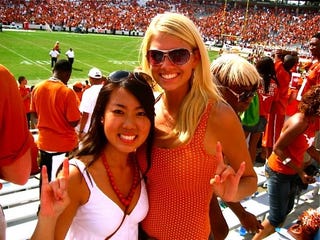 What you missed while filling your pants with delicious shrimp ...
• World Series: Less cowbell, more Lidge ...
Phillies take 1-0 series lead
. [NBCSports] • NFL: Is
Mike Holmgren headed to the 49ers?
Well, he is this weekend, anyway. [USA Today] • NHL: Flyers fans
thrilled with Roenick's return
; Flyers, not so much. [CBS Sportsline]
For your Morning Wakeup Image we present Austin, Texas TV correspondent and Colt McCoy main squeeze Rachel Glandorf (above right), posing with an unknown friend at a Longhorns game. Thanks to Mr. Anonymous, who also sent the image below of Glandorf with Mr. Mike Tyson (not shown: The pepper spray keychain balled up in Ms. Glandorf's left fist).