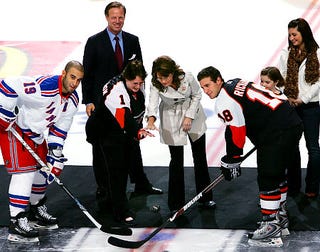 Noticing how seamlessly everything went together when the Philadelphia Flyers tried it, the St. Louis Blues thought that they'd get in on some of that sweet Sarah Palin puck-droppin' action theyownselves. The Blues confirmed Wednesday that Palin will drop the first puck at the Scottrade Center on Friday night as St. Louis meets the Los Angeles Kings. The Blues apparently haven't noticed that since
Palin dropped the puck for the Flyers' opener
earlier this month, Philadelphia is winless in six games so far. This has caused so much consternation in Philly that one blog,
The Scores Report
, wrote that Palin "Jessica-Simpsoned the Flyers," which is an interesting way of putting it. Anyway,
it should be a fun evening
:
When Palin visits Friday, Democrats say they plan to be outside the hockey arena handing out shopping guides for Neiman Marcus and Saks Fifth Avenue, in a jab at the national GOP's $150,000 tab to clothe Palin and her family.
Local Puck For Palin
[St. Louis Post-Dispatch]
Palin Rumored Guest For Friday Night
[St. Louis Game Time]