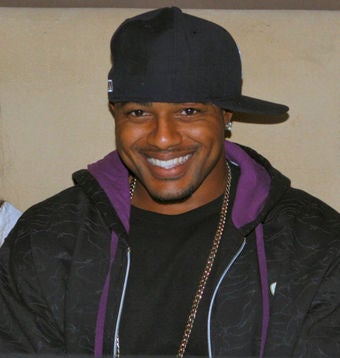 Chiefs running back Larry Johnson was deactivated again this week and addressed his latest lady-pestering incident with the media yesterday and seemed surprisingly contrite. We're so used to seeing troubled athletes mumble through scripted apologies for the sake of their career, it's a little jarring to actually see Johnson appear human and display an acute sense of self-awareness. After apologizing to the Chiefs, the fans, his family, etc., L.J. took it further :
And I promise not only to the fans, not only to teammates, players, coaches, GMs and my own family that I do anticipate seeking help to get better as far as getting my life on track, knowing what I want out of this life, not necessarily football, and just work as hard as I can not only being a good football player but obviously being a son of the National Football League, a son of my own family, hopefully a brother, a future father, future husband. [I will work hard] to get my life back on track and know that I and I alone put myself in these critical situations and environments to where things don't come out favorably to me. All I can do is promise to you guys and to people who are watching that as a man, I'm still growing and as a man everyone makes mistakes."
Lots of mistakes, in Johnson's case. This is the fourth time he's been accused of assaulting a woman in five years, which shows a terrifying pattern of behavior that he obviously can't control. And with that track record, it's safe to assume that there have been more incidents like this that haven't had police involvement. If the Chiefs are really serious about hard-lining after this latest one, they should cut him the rest of the year. Go get your head right, Larry, and figure out if you can control this crap. The Chiefs aren't going to be any worse without him.
Larry Johnson Benched again but it sorry for making it rain
[Shutdown Corner]