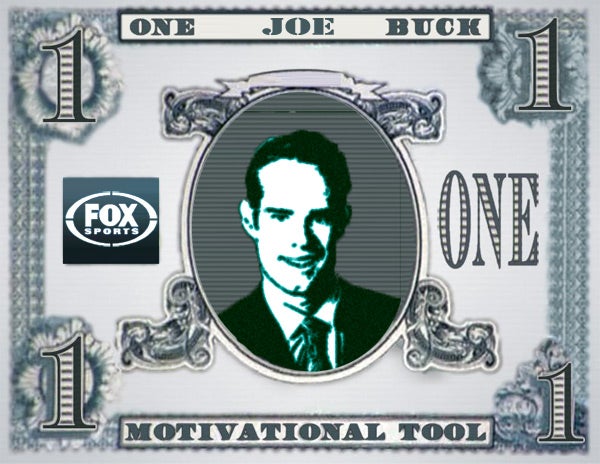 Pitching, we have Brett "Left Hook" Myers and James Shields, not "Hields That Begin With The Letter 'S' " on the mound. Talking, it's Joe Buck (pictured) and Tim McCarver (imagined.) Jumping, is viewers like you. * * *Top 9th 2


4 11:38 — I did my best, master! I tried as hard as I could to keep them undefeated in my live blogs! No, master, not the commenter execution rack! NOOOOOOOOOOOOOOOO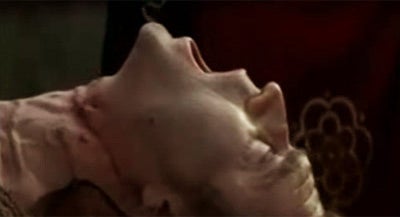 11:35 — Oh, Howard slumped that one into the shift for the final out. Joe Buck says David Price gets a save — minutes after saying it's NOT a save situation — then retracts by saying it wasn't statistically a save. What's the relief stat between a hold and a save? Win: James Shields Lose: Brett Myers Nutclutch: David Price 11:34 — Well, nobody listen to me. Utley learns about the hard, unforgiving breaking pitches of the Vanderbilt product. 11:34 — Seriously, folks, am I the only one concerned that Price is throwing a sweet ungodly number of pitches? How long until Maddon names Price the Game 3 starter? 11:32 — So here's what's happening. Werth's screamer to Longoria bounces off his promising young glove and skitters into the outfield. Ruiz rounds third and scores. David Price ... still in there. 11:31 — Kerwin Danley will not overturn Rollins' little popout to short left field. He's cool with it. One out. 11:29 — Rollins gets jersey-knicked, but the home plate umpire didn't at all hear a sound of an overworked arm's fastball grazing against polyester. Joe Maddon thought it was a balk. 11:28 — After 25 pitches, Ruiz will double down the left. Still in there. 11:26 — Maddon will stick with the Dusty Baker Theory Of Practical Application Of Young Arms. The man they call David Price is still in there . Bottom 8th 1


4 11:24 — Also, Tampa Bay batters do nothing special. This inning was mainly put in place to tell you about Rayhawks and 9=8. 11:22 — Wearing the microphone instead of not being injured is Jonny Gomes, the delightful fella they always show in the dugout being wacky. The inventor of the wildly popular Rayhawk has a long way to go to catch up to Professor Hubert Farnsworth in terms of prolific innovation. 11:20 — Where do assassinated Catholic priests go for slacks? J.C. Romero. He just froze Peña on a strikeout. Commercial Break Jason Bartlett stole a base, so America gets a free Taco Bell taco from 2-6 p.m. on October 28. Visit stealabasestealataco.com to find out more. Because, you know, there's more to it than that! They don't tell you about the bowel movements that ensue. The answer ... lies within. Top 8th 11:15 — Go forth and Feliz no more. 11:14 — Hey look, Eric Bruntlett. Oh, hey look, a home run. Note to the Phillies clubhouse manager: have the starting lineup grow more fair-haired beards. 11:13 — Rays fans are singing "Na Na Hey Hey Kiss Him Goodbye," because this game, if won by Tampa Bay, would eliminate Philadelphia from the playoffs? 11:12 — Tim McCarver just can't believe how unfair it is that some GMs can trade guys like Delmon Young away and get dudes like Jason Bartlett and Matt Garza in return. McCarver really got burned in his fantasy baseball league this year by Billy Beane and won't ever forgive him. 11:10 — Let's see how many electric fastballs off the plate Price can bring to the table in this inning. Commercial Break This January, on FOX: An eccentric man with a British accent captures America's heart with his dry wit and unusual tactics. I ... forget what show I'm talking about. A lot of them fit. Bottom 7th 0


4 11:06 — Ouch, that double play hurts things! Upton now has three in the series. And Brett Myers lasts seven. 11:04 — So it was a strike, and therefore the FoxTrax replay shows the ball just barely bordering the strike zone? Sheesh, I'm noticing a pattern. FoxTrax must have the graphic telemetry of a Commodore 64. 11:02 — "B.J." stands for "Bossman Junior." Doesn't it always? 11:01 — Myers is still pitching. Repeat: HE'S STILL PITCHING. Tampa's on their third pitcher, and Myers is still getting batters out. See, there's one. Iwamura lines out. If Melvin Emanuel Upton gets out — or a double play, because those hurt! — Myers will be two innings more durable than Shields. 11:00 — Sure was nice of Joe Buck to remind us of the free taco. We forgot. Jason Bartlett singles, allowing everyone extra packets of hot sauce. Seventh Inning Stretch Entertainment Sure, it's satire. But if this bill actually passes, it will be illegal for Joe Theismann to return to the broadcast booth. Top 7th 10:54 — After establishing the spot 12 inches off the plate about seven times with authority, Price somehow scraped together three strikes to sit Howard down. Two more fellas left on base. SLUMPY SLUMP SLUMP. 10:53 — On the first pitch (borderline again) McCarver wants to see a replay. They show it. "Wow, that pitch was right there." Uh, thanks for the nondescript conclusion, Tim. 10:51 — This is the beginning of a seven-out save, right? Well, it's not a good one, now that Chaseton Utley looks at four straight wacky pitches off the plate. 10:49 — And Wheeler gets the heave-ho for David Price time. Hey, Tim was right about something. Apply credit to the designated space where credit is often due. 10:46 — Werth stares at a borderliney strike on the outside corner. FoxTrax calls it "just outside." (Which it looked to me.) McCarvTrax calls it "perfect." McCarvTrax has evolved beyond the Cartesian plane and uses velocity, pitcher reactions, and an X-factor known only as "Enrico Palazz-O-Meter." Perfect pitch. 10:42 — Rollins gets ahold of a couple dust particles on the swing, but his strikeout does help Ruiz steal second base. Hey, a runner in scoring position! This is a good thing for Philadelphia! 10:41 — Tim predicts Wheeler will be yanked after two more batters to make way for the phenom closer du jour David Price. Oh, I don't know. 10:38 — If Chris Berman does this highlight, he'll say "Carlos ... Thelma And Ruiz draws a walk. WHOOP!" 10:36 — Dan Wheeler remains in the game to throw flat curveballs to Carlos Ruiz, who hits what would be a triple in Super Baseball 2020 but a foul ball in the real world of non-robot athletics. 10:34 — Some footage of Baldelli sitting down to rest his mitochondria before running back out to right field. I think we have our new Lifetime movie. Bottom 6th 0


4 10:31 — Myers blasts through the inning, and even though he gave up four more runs than Shields, he still lasted longer in the game. Oh, Joe Maddon. You and your wacky managing gambits! 10:28 — They're warming up David Price! Yes, finally, he's getting the closer's respect he deserves! Great to ... wait, it's not the 8th inning yet? And the other de facto closer has already been used? This sounds like a save situation for Trever Miller! Top 6th 10:25 — And the pitching switch "works." Feliz grounds out, and now the pen gets to work three more innings. Woohoo! Two more stranded baserunners, one of them on third base, for 'Delphia. 10:24 — A Matt Stairs mention — not just that, but a replay — at the 6th inning. Just one inning shy of the bingo square. Maybe next time. 10:21 — With dudes on the corners and 2 outs, and the always dangerous (!?) Pedro Feliz stepping up, Joe Maddon is ready for a change. James Shields finishes 5 2/3 innings with no earned runs (For now). Oh good, Tampa yanks their starter inexplicably and gives their bullpen a sizeable lead. No way this turns out badly for St. Tampasburg. 10:19 — HE COULDN'T SEE THAT BASE HIT, JOE. Dobbs' blooper gets trapped by Upton, at which point Tim McCarver is reminded of his teammate Garry Maddox, who also had such stellar defense that he used to trap balls like that too. 10:18 — Joe Buck is already blasting Greg Dobbs for not seeing the ball well. Matt Stairs paid him 50 bucks to say that every time he came up to bat. 10:16 — Victorino gets a ball by Peña for a single. Apparently Carlos was playing in for a bunt. With two outs. People prepare for other people to bunt with two outs. 10:14 — One side of Tropicana Field is cheering "Tampa!" The other half is saying "Bay!" Understandably, St. Petersburg is a little harder to split into a bicameral cheer. 10:12 — Howard gets a shift out, bringing us to Fox's Game 2 summary. There are two bullet points, and one of them is about Philly's batting stats with runners at third for the entire series. So it's more like a "World Series summary, with partial emphasis on Game 2." That'll fit on the screen, just decrease the font. Control-Shift-minus sign. Go on, do it. Do it. 10:11 — Ryan Howard's last home run? It was against the Nationals. And you thought they couldn't jimmy their way into the Series discussion. You heard it here first, folks: Nats-Jays in the 2009 World Series! Bottom 5th 0


4 10:07 — Crawford strands a man with his second base groundout, but it's okay, because they're winning, despite that chump Longoria swinging at everything he can't hit. 10:05 — A strikeout for Evan McDreamypants. Yesterday's headline: "Can Phils Continue To Win With Slumping Cleanup Hitter?" Tomorrow's headline: "Can Rays Continue To Win With Slumping Cleanup Hitter? In Related Story: Ryan Howard Still Not Producing" 10:03 — Carlos Ruiz skips the ball to right field, and it bounces three times. Make a wish! Was it that Carlos Peña advance to second on the snap throw error? I hope not, because if you told me, it wouldn't have come true. 10:00 — Myers shifts all of Peña's pitches outside the strike zone, and he'll walk as a result. Top 5th 9:57 — Baldelli hustleruns toward the searing line drive, which is a metaphor for his mysterious illness, and doubles up the overzealous Jayson Werth, which is metaphor for poor baserunning. 9:55 — And the password is ... 712l6nmQ4536b. I think. Careful, though. Dialing this number will get you the president of Botswana. 9:53 — Walk, Carlos Ruiz. Go on, just walk. NOW RUN! Rollins gets his teammate to eventually walk back to the dugout and suit up in padding after Rollins' speed demotes a double play into a mere forceout. Bottom 4th 0


4 9:47 — Gruden's boy Aki tries that "ground ball with a man on third" magic, but unfortunately there were already two outs. ENNH. Thanks for playing! 9:46 — The Rays' third run crosses the plate in which a hit wasn't necessary. Jason Bartlett's momma's got a squeeze box, Tampa never sleeps at night. 9:44 — We secretly replaced Baldelli's double play groundball with Fielder's Choice crystals. Let's see if the Phillies notice. 9:43 — Navarro singles too, which is like that one Foo Fighters song. You know, the one about singling to center. 9:40 — Floyd gets a bat-shatterin' single to left, which is just like that one Andy Griffith episode where Deputy Fife oh who am I kidding I never saw that show. Top 4th 9:37 — Feliz picks the ball up, but just enough to ground out to strand ANOTHER couple of good men. That's five LOB in four innings for the Phillies, three of which were on third base. In short, they got Tampa Bay RIGHT where they want them. 9:36 — Greg Dobbs can't pick the ball up. He can't pick it up. He can't pick it up. Of course he can't pick it up. If he touches it, he's out. Or if he swings at strike #3, which just happened. 9:32 — Iwamura "saves a run" by catching the deflected groundball that Shane Victorino beat out. If Greg Dobbs gets a base hit, then no, no he didn't save a run. 9:30 — If there was no shift, Ryan Howard has a groundout. But instead he singles up the recalibrated middle. Tim McCarver reminds us all that the Cleveland Indians were the first team to employ the shift back in the 1940s, because they were told that Nazis were dead pull hitters. Bottom 3rd 0


3 9:26 — Brett Myers is 25 percent settled in, and 25 percent dialed in. That leaves a 50 percent combination of being erratic, getting behind in batters, and Retsyn™. Commercial Break It doesn't seem fair that Gatorade's "And The Legend Continues" slogan was shamelessly ripped from Boggy Creek II . Top 3rd 9:21 — Ground balls are all the rage today. Chase Utley, trendsetter. Chase Utley, inning-ender. Chase Utley, detracting people away from Ryan Howard's slump. 9:18 — Rollins gets the attention of all infielders by jumping up and down, yelling "Look at me !" and distracting them all while Ruiz creeps over to third. Also, that grounder to the right side of the infield might've had something to do with it. 9:15 — Ruiz really does smash a double that never gets more than four feet off the ground. More angle, Carlos. Angle it up a bit. Didn't you ever play Worms? You need to get some air under that ball next time. Bottom 2nd 0


3 9:12 — Upton bucks the trend by actually getting a base hit with a guy on third, and Navarro will cross home plate easily, but Rocco Baldelli, with pockets full of OxyContin, can't pick up enough speed to beat the throw home or to knock over Carlos Ruiz and his American spirit. Danley calls him out, and does not defer to first to double check. Just the one run for now. 9:11 — Another great chance for the Rays to score a run without getting a hit and Iwamura's soft flair is grabbed by Rollins a guy who Tim says "gets around." I thought mainstream baseball people didn't care about the personal life of ballplayers? 9:08 — Bartlett swings — or did he? — and an infield dribbler loads the bases. 9:07 — Baldelli is called out on strikes, then Kerwin Danley overturns his own call by appealing to first base, who says he didn't go. Joe Maddon probably thought it was a balk. 9:06 — Ken Rosenthal, with Rocco Baldelli (I think)'s life lesson: "I've learned the art of taking one handful at a time." This was also Dwight Gooden's life lesson, but it meant something completely different. 9:03 — Jimmy Rollins throws out Cliff Floyd. And this is precious. Tim McCarver likes the phrase "Jimmy throws out Floyd," because it reminds him of The Andy Griffith Show . Sadly, that's the second Floyd The Barber reference I've heard on mass media today, the first being on Sirius radio. So Craig Shoemaker and Tim McCarver will have something to talk about when they attend MayBerryCon '08 in Billings, Montana. Top 2nd 9:00 — Pedro Feliz does a great defensive thing and lines out to center field, where BJ Upton just got a great jump on the ball, allowing him to not hustle to where it landed. 8:58 — Greg Dobbs is quite perverse. He got a thrill out of just watching strike three go by. Please, there are children present in the stadium! 8:57 — Big game, big wild pitch. Everybody move up a base, that's just as good as a balk. 8:55 — Burrell's just walkin' to first. Don't mind him. 8:55 — A Chris Myers exclusive report. Ryan Howard would get out of the slump if he just saw the ball. So that's what went wrong. He had his eyes closed all this time! 8:54 — Fox, what's the intent of a strike zone graphic replay when they swing and miss? 8:52 — Joe Buck brings up the silly time Joe Maddon used four outfielders in a defensive shift. Hey, that'd been useful to prevent that Ryan Howard double to deep, deep center. Or, hey, just keep using the same ol' "43 infielders between first and second" alignment. Bottom 1st 0


2 8:48 — Carl Crawford grounds out and gets nothing but a slap on the ass. (Not the good kind.) 8:48 — There go the Rays again, not getting hits with guys in scoring position. Longoria recklessly grounds out to short. Oh, but it does score another run. 8:46 — They still went shifty-ass on Peña, despite a lot of runners on base. Carlos bats in a run with a pulled pork groundball. Mmm. Does anyone have barbecue sauce made somewhere in the Bible Belt? I'd like to just drink it straight from the squeezy bottle if that's all right. 8:43 — Iwamura walked and scampered to third after Upton hustles out a double, wiping away all other times he didn't hustle, but not any future unforeseen hustling moments. 8:42 — Brett Myers could DH. Aw, 1/5 the way toward a bingo! Now they show close-ups of Myers' four pitches. Hey, no spoilers! 8:40 — Jon Gruden with the INTENSE VISOR SWITCH to announce the starting lineup. Wow, he's not even going to try and pronounce "Akinori Iwamura." He'll just settle for "Our boy Aki." That's why he went into football — so he wouldn't have to pronounce those goofy Asian names, right, Grudes? Top 1st 8:37 — Shields, the man who pitches well in big games or something, gets through the first inning perfecgtly. (By the way: Shields' record in small, shitty-ass games? 2-13, 17.42 ERA) 8:36 — Don Zimmer is one of two living members of the 1955 Dodgers, the other guy not being nearly as pudgy and adorable. 8:34 — Evan Longoria knocks down the ball instead of fielding it cleanly. This prevents him from having to rush the throw, and therefore is successful in throwing out Werth. 8:32 — Joe Buck: "Shields features that good changeup." But you ... said ... very good ... just ... then ... 8:31 — James Shields has a scouting report, too: • BIG GAME JAMES. Phillies should watch out for James' "big game" cheat code at all costs, and adjust to it with the password "clutch hitting." • VERY GOOD CHANGEUP. It's very good, especially in big games. • MOVES FASTBALL IN & OUT. Likes to throw it in different spots. Some poor pitchers do this unintentionally. Telecast 8:29 — Keys to the Game! Yay! "PHILADELPHIA: WHERE IS RYAN HOWARD?" Batting fourth and playign at first base. You just said that . "TAMPA: DON'T WANT TO GO TO PHILADELPHIA 0-2... NO KIDDING" Ha, even Joe Buck said they were "stating the obvious." That'll do quite nicely. 8:27 — We're still tied in a scoreless pitcher's duel! Also, Ryan Howard is hitless in the game. 8:25 — What? Just ONE time announcing the lineup? I guess Fox doesn't have a quota to fill after all. 8:14 — And now for the Backstreet Boys' ethnic twins, Los Lonely Boys, to sing the national anthem. I actually don't want to gouge my eyes out, so this is a positive thing. 8:10 — Must be a new policy at NewsCorp. Every canned segment on Fox Sports must be accompanied by one of John Williams' lesser known arrangements. 8:02 — It appears they really, really liked that McCain/Obama baseball history quote national pastime montage so much, they made a sequel. Just think, it could be worse. Eric Byrnes and Mark Grace could have recited some INCREDIBLY WACKY AND UNPREDICTABLE lines alongside hovering portraits of Robert McNamara and Adlai Stevenson. Actually, I change my mind. I'd like to see that.

Pre-Game Babble This game is a MUST WIN for Tampa Bay. Alternately, it is a MUST WIN for Philadelphia. If neither of these teams wins the game, it puts them at a disadvantage. (Damn, I really need to start writing game previews or keys to the game. "I think starting pitching will also be a factor!" God, this is easy.) Actually it's more of a must-win for Tampa Bay, because if the Phillies get a 2-0 jump on the champeenship series, I have to cancel weekend live blogs so the Rays can even things up in Philly. Or maybe for my own sanity, it's a must-win for Philadelphia, otherwise AJ will beat me. W-L Record In Deadspin Live Blogs 
 Phillies: 6-0 
Rays: 1-2 Starting Lineups Philadelphia 1. Jimmy "Snooze Alarm" Rollins 2. Jayson "Jeighsunne" Werth 3. Chase "C-Ut" Utley 4. Ryan "Five, five dollar, five dollar" Howard 5. Pat "Sacks" Burrell 6. Shane "The Magically Levitating Pac-Islander" VIctorino 7. Greg "Dobbington" Dobbs 8. Pedro "Für" Feliz 9. Carlos "Squat" Ruiz Tampa Bay 1. 2B Akinori "Strandy" Iwamura 2. CF B.J. "Mosey" Upton 3. 1B Carlos "Squiggy" Peña 4. 3B Evan "Metaphorical And Literal Cornerstone" Longoria 5. LF Carl "Con Carne" Crawford 6. DH Cliff "Stumpy" Floyd 7. C Dioner "I'm Open!" Navarro 8. RF Rocco "Prognosis" Baldelli 9. SS Triple Queso Jason Bartlett Grande And now, your bingo starting lineup.