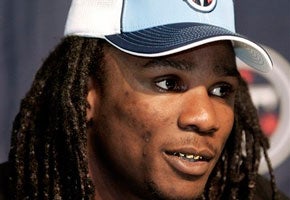 I've always thought that the NFL was a bit stodgy when it came to their touchdown celebration policy; playing the Mr. Belding in the
Saved By The Bell
that is our nation's most popular televised sport. But that being as it is, there is a rule in place against end zone shenanigans, so the Titans' Chris Johnson shouldn't have been surprised when he was fined $10,000 on Thursday for his antics in the Kansas City game. Johnson is going to appeal the fine, and I for one would like to be in the room when that happens. Chris, you scored a touchdown and then infiltrated the other team's pep band and
played the freakin' drums
. You're not giving the Players Union a lot to work with here. After a 66-yard scoring run in the fourth quarter against the Chiefs, Johnson ran over to the Chiefs band's rhythm section and began banging on its conga drums (see video below), drawing a 15-yard penalty for unsportsmanlike conduct. But he says
a $10,000 fine for this is too harsh
.
"I am not happy about it,'' Johnson said. "I knew I was going to get a fine, but I am totally upset about how much. I am going to appeal. … There's no fun in this league. I was trying to have fun and they want to penalize us for having fun. I'll just have to watch what I can do. I know you can't use props or anything like that. But I feel if Chad only got fined $7,500 for using a camera, I shouldn't be fined $10,000. That's not right.''
Chad Johnson's touchdown celebration against the Titans last season, in which the Bengals receiver got behind a television camera and pointed it at the field, resulted in a $7,500 fine. Um, notice how I didn't refer to him as Chad Ocho Cinco, by the way?
The big Ocho Cinco experiment is dead
, at least for now. Well, it was inevitable in this troubling financial climate: Johnson did the math recently, and figured that it would have cost him a bundle to reimburse Reebok for changing over all of their Johnson jerseys to Ocho Cinco. So he'll wait until next season to do it — if the mood still suits him — when he can have it done for free.
Titan Will Appeal Fine For Drum Celebration
[The Tennessean]
Ocho Cinco Will Stick With Old Jersey For Season
[NBCSports]