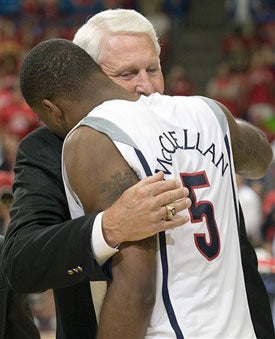 See update below ...
Late yesterday, Lute Olson finally made it official—
he's dunzo at the University of Arizona
. (That also means Dick Vitale was ...
*shudder*
... correct.) Yesterday was just the latest misstep, however, in an awkward, drawn out and at times ugly exit for a legendary coach who has now spoiled two seasons for his program, leaving them in a lurch just a few very short weeks before the season begins. At the moment, Arizona has no coach. Associate head coach Mike Dunlap
has been offered the "interim" gig
, but said he has to sleep on it, which probably means that if he can find a better option in the next 24 hours he'll take it. Any recruits they're pursing certainly have to be re-evaluating their position and no one with a sane choice is going to commit until a permanent replacement is found. The botched announcement also made his university look foolish, since spokespeople were forced to deny the report all day long simply because no one bothered to tell them the truth. If Dunlap turns them down—and he very well might, he's only been at the school since April and has no ties there—their options get real thin, real quick. The ranking assistant is former Wildcat Reggie Geary, who has been on the staff for one year. No established coach is going to run out on his own program this late into October. In other words, this is the kind of thing that dooms programs. Despite all their success under Olson—their streak of 24 straight tournament appearances may be in jeopardy—without the right move now, basketball at Arizona could be set back a decade. And if that wasn't bad enough, Midnight Lute is a shaky 7/2 in tomorrow's Breeder's Cup Sprint and hasn't won a race in a over a year. Maybe they'll both need to be taken out back and shot.
Olson and others haven't grasped the art of the exit
[ESPN]
Lute Lives On in Horse Racing.....Probably
[Storming The Floor] [Photo: AP]
UPDATE:
Dunlap has turned down the offer and the interim job will go to first-year Arizona assistant Russ Pennell, who will run the team for the '08-'09 season. Good luck with that, Russ. [
Rivals
]