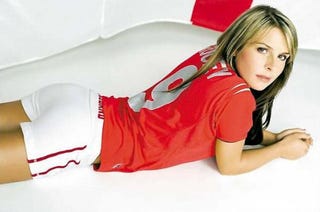 Holy crap, don't these Brits know we're trying to sleep over here. I'm jetlagged and there's know way in hell I'm waking up at the crack of dawn to watch the Red Devils. But still, it's a pretty good game, so I'll probably be arriving at my couch in about an hour. If you are up for the early match be sure to pace yourself, because it's going to be a fairly busy day. Of course most of the matches are total crap, so feel free to switch over to college football after noon. Continue after the jump for a rundown of all of today's televised matches.
Match of the Day
EPL- Everton vs. Manchester United at 7:00 am on Setanta
The Red Devils are really coming together, especially up front with Rooney and Berbatov. They'll be joined by Patrice Evra and Rio Ferdinand who return from injuries against a struggling Everton side. The Toffees have been extra crappy in their own home park, a trend they'll be hard-pressed to break this morning.
Other Matches That Could Be of Potential Interest to Some
EPL- West Bromwich Albion vs. Hull City at 10:00 am on FSC
If Hull City picks up these three points there's an excellent chance they're going to be tied with Liverpool for second place tomorrow afternoon.
Bundesliga - Bayern Munich vs Wolfsburg at 11:30 am on GolTV
Klinsmann's side looked pretty impressive in their midweek Champions League win. Next stop: Conquering the Bundesliga...then on to Poland.
EPL - Blackburn Rovers vs. Middlesbrough at 12:30 on FSC
It's an all-out battle for mediocrity!
La Liga - Osasuna vs Real Betis at 2 pm on GolTV
No.
Serie A - Juventus vs. Torino at 2:30 on FSC
The
Juventus edition of the Air Max '95
was selling for $275 in LA. Is that a potential write-off?
Ligue 1 - Toulouse vs Monaco at 3 pm on Setanta
Monaco may suck, but hey, that's FREDDY ADU!
La Liga - Barcelona vs Almeria at 4 pm on GolTV
Barca is always worth watching if you have some free time.
Serie A - Siena vs. Catania at 4:30 pm on GolTV
Fuck no. There you go, enjoy the soccer and follow along with the fun in the comment section. Especially if you're drunk and your team is losing. Or about to lose, like Liverpool.