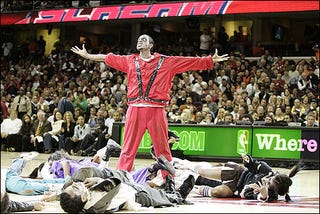 Every now and then, you need a horrific accident just to remind you how physically demanding of a sport cheerleading/dancing/tumbling actually is; if no one
ever
got hurt, would we still be amazed by the somersaults? Which is why it's necessary to highlight this story from last night regarding an injury to a member of the Cavaliers dance squad. While trying to entertain the crowd during a 4th quarter timeout, a member of the Cavs Scream Team lost their balance during a tumbling routine, landed on their face, and was flat-out knocked unconscious. The game was halted for about 10 minutes while medical staff attended to the fallen soul and both teams came together for some stone-cold group prayer. The dancer was carted off on a stretcher, but "never lost movement in his extremities". Even his penis.
(Important Note: So yeah, the photo is definitely not of the cheerleader in question. In fact, it's not even a member of the same gender. But since there's no photos, or God-willing video, of the injured dancer as of yet, it'll have to do. If you need more verisimilitude in your life, feel free to save the image to your computer and photoshop a penis onto her, which is exactly how I'll be spending my next half-hour.)
Hey, look! We found a photo that has to do with the actual Scream Team! UPDATE: It has been brought to our attention that the Scream Team are the "annoying people who throw stuff out to the fans", which makes it even more important that we somehow get video of this disaster.
Cavaliers dancer injured during preseason game vs. Wizards
[USA Today]