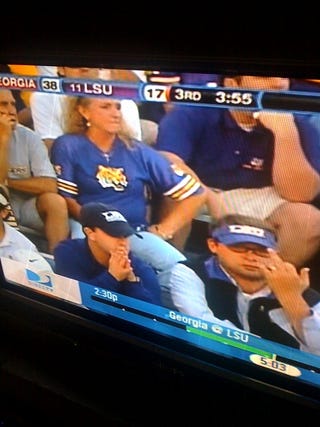 Thanks to Paul for this evocative image, complete with artsy angle. (And also thanks to Brad, who sent one just before post time.) We thought the LSU fans were a little drama queen-y when their band broke out "Paint It Black" at 21-7 Georgia. Now we know for sure.
Lady Andrea:
The #1-ranked team is playing the #6-ranked team and I have to watch Michigan-Michigan State. Isn't this why we have the Big Ten Network?
(So you're the one!)
The now-famous spacecowgirl01:
so maybe getting stuck watching Cal-UCLA on ABC instead of Texas-Oklahoma State isn't so bad. They played Green Day's "American Idiot" and let the words "mind fuck" slip through - on ABC! I feel so dirty and rebellious having heard it, like that kid who just learned to spell out "BOOB" on a calculator.
(
Get on it, people!
)
Ray Wert:
End zone pilons are NOT an extension of the field. I don't care what U of M-paid refs say. The rule book says "an airborne player striking a pilon is out of bounds." Just sayin'...
(Deadspin: We don't charge by the hour.)
Zombie Jesus X:
Colt McCoy scores another touchdown. Just think, in a few years he'll be dancing shirtless while drinking tequila with a bunch of dudes then become suicidal and be replaced by Kerry Collins. Too soon?
(Texy, line 2...)
JWaldman11:
I was just watching Cal/UCLA, and, while they were showing Jeff Tedford on the sidelines, you could see one of the assistant coaches in the background buttoning his pants back up. I guess high school football players aren't the only ones who have to piss while on the field.
Finally, Matthew Stafford's parents are aroused by their son's athletic success, so says Gary Danielson. We're exactly the same at dance recitals. Hugh goes back into his box for the week. Say goodbye to the nice people, Hugh! Oops. We think we broke him. shh. Don't tell Weekend KOGOD. And enjoy Penn State-Ohio State; we're rooting for strong American values... and twins.