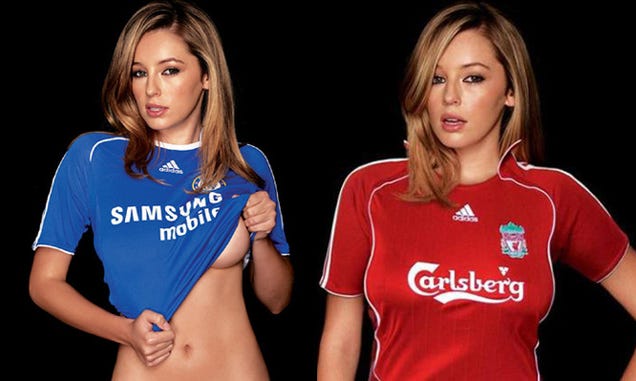 There's really nothing that needs to be said. Keeley Hazel just looks hotter in the beautiful blue of Chelsea. Oh, and Chelsea happens to be hosting Liverpool with first place atop the English Premier League's table at stake after nearly a quarter of the season. The Scousers and Blues have each racked up 20 points through eight league matches, while Hull (fucking) City has matched them through nine. Can Liverpool take points from Chelsea who are unbeatable at the Bridge? Continue after the jump for a breakdown of this huge matchup, plus the rest of the day's televised matches, and a managerial shakeup in the EPL.
Match of the Week
EPL Chelsea vs. Liverpool at 9:30 on Setanta
The Scousers have never managed so much as a single goal at Stamford Bridge during league play under Rafa Benitez, and with Torres injurd it seems highly unlikely that Liverpool will earn a point, much less three. Of course Chelsea is somewhat depleted in their own right. Ballack, Drogba, and Joe Cole join Michael Essien in the spectators booth. However Carvalho will return to the lineup to form an dominating back line in front of Petr Cech.
Other Televised Matches of Potential Interest
Serie A - Atalanta vs. AC Milan at 10:00 am on FSC
Why aren't you watching Chelsea?
EPL - West Ham vs. Arsenal at 12:00 pm on FSC
Watch the Gunners attempt to claw back within a point of mighty Hull City.
La Liga - Recreativo Huelva vs. Valencia at 12:00 pm on GolTV
Honestly, it's better than the FOX pregame show.
EPL - Portsmouth vs. Fulham at 1:00 pm on Setanta
Pompey will play for the first time since losing their manager Harry Redknapp to the woefully underachieving Spurs.
La Liga - Villarreal vs. Atletico Madrid at 2:00 pm on GolTV
Will Jozy suit up? Probably not, but hey, enjoy the stylings of Sergio Aguero.
Serie A - Palermo vs. Fiorentina at 3:30 pm on FSC
How do you say "fuck no" in Italian?
La Liga - Real Madrid vs. Atletico Bilbao at 4:00 pm on GolTV
Real is poised to move back towards the top of the table and Bilbao can't score for shit.
Ligue 1 - Marseilles vs. PSG at 4:00 pm on Setanta
The French aren't all bad. Except for Paris. They suck.
EPL - Chelsea vs. Liverpool at 6:00 pm (same day tape) on Setanta
Just in case you missed it the first time around. Enjoy your day, and so help me god if I see a spoiler for this Chelsea match before I can watch it on the DVR I'll bury the lot of you in a shallow grave.