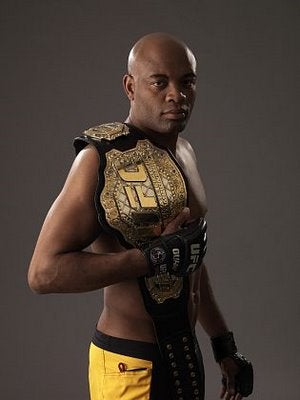 As yet another reminder that style points matter in judged sports (even when they're not tallied explicitly),
Anderson Silva seemingly toyed with Patrick Cote
before watching his competition collapse under expectations (and an old knee injury renewed) in the third round. Of course, Silva now has to explain why he didn't kill Cote with his own meniscus in the first round and aren't you supposed to pull the head off and bring the spine with it? Also, how did any of you come to a conclusion on what to watch at 11 pm ET last night? Did those of you that bought the PPV melt your remotes?
In other action
, Thiago Alves has too many muscles for Josh Koscheck, Junior dos Santos took no time to remove Werdum from play, and Sean Sherk defeated Tyson Griffin.
Silva re-invents himself as 'the jerk' ... Cote injured in the third round
[Yahoo! Sports MMA Experts Blog]
UFC 90 recap: Patrick Cote's injury nets Anderson Silva successful title defense
[MMA Junkie]