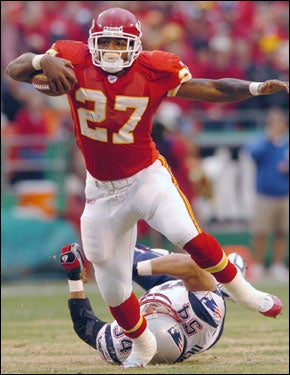 What a week for evil, HEEENGH? This probably isn't what Roger Goodall had in mind when he was going to "clean up the league". A Texans long-snapper and half of the Saints team got busted for the hilariously wimpy accusation of ingesting water pills; none have been suspended yet. Kellen Winslow got a one-game suspension handed down from the Browns for talking trash to a PR official, then had the suspension rescinded, but still will not play today because he didn't make the trip. Brett Favre sort of cheated by giving the Lions the Packers old playbook or something, although he did it horribly since the Lions still lost by 23 points. And Larry Johnson spit on a lady! Let's do some previewin'!
San Diego at New Orleans:
This is the game of the week only because it takes place across the pond in London; this is technically a "home game" for the Saints. Watch for Drew Brees' Mole to glow in the London fog as it grows angrier and angrier once it realizes that he's playing against his former team. It will then make it a point to steal Philip Rivers' girl.
Tampa Bay at Dallas:
Many folks out there are considering this a "must win" for the Cowboys, which means we can all keep an extra eye on the Cowboys training staff as they try to hide sharp objects from Terrell Owens.
NY Giants at Pittsburgh:
The Battle of the 5-and-1s should be a defensive struggle, if only because I'm starting both Eli Manning and Ben Roethlisberger on my fantasy teams.
Seattle at San Francisco:
And you thought the Pacific Northwest couldn't be a more depressing place to live. Let's see if
this morning's earthquakes
knock any sense into either of these teams.
Last-Minute Injury Updates:
• Steven Jackson is apparently "out" now. Antonio Pittman should be getting the carries. • Anquan Boldin is back, everybody! • My ears are out of commission after that horrible "Saved by Zero" song in the Toyota commercials. • Joey Galloway is back for the Bucs. • Jeremy Shockey is ALSO back. And he doesn't have any water pills weighing him down! • Sammy Morris and LaMont Jordan are both out for the Patriots, meaning their running back will be whoever Bill Belichick picks out of the stands. • Brian Westbrook is back in action for the Eagles, for a few downs at least. • Shawn Springs will not be picking off Dan Orlovsky today from his place on the Redskins bench.
NFL Distribution Maps:
The lone CBS map is a
potpourri of bold gorgeous colors
. Print it out and get high, man! Meanwhile, the two Fox maps are gaudy eyesores, the first forcing us to
watch Brad Johnson captain the broken-down ship of the Cowboys
, and the second letting us
see if Usi Uminyora little bottles of 5-Hour Energy wear out
, a product that honestly doesn't seem like the healthiest thing to be taking before a football game. Have fun, kids.