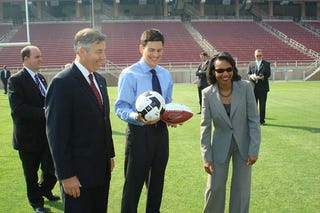 Condoleezza Rice,
National Security Adviser to President Bush
Secretary of Flippin' State (and we're rather embarrassed about THAT), has been fishing for an NFL job post-Executive Branch for awhile. She's quoted in 2002 trolling for the NFL Commissioner position (only to be beaten out by Guantanamo Goodell) and, while she doesn't have any sports executive experience, she knows a guy who does. (Texas Rangers. Remember? Maybe Jon Daniels could have a new boss himself next season.) And now, word comes from Adam Schefter of NFL Network that
Rice might be willing to settle for the presidency of the San Francisco 49ers
. It's one of those "if she wants me, I will totally call her" and "if he wants a president, I totally want to be a president" stories that has all the makings of wishful thinking by media members and coy flirting by the actual players, but we'll indulge ourselves if only because we know a franchise presidency doesn't require an immense amount of inside football knowledge (which she has) and we'd like to see someone from the current administration succeed without a book tour.
49ers interested in Condoleezza Rice
[NFL Network]