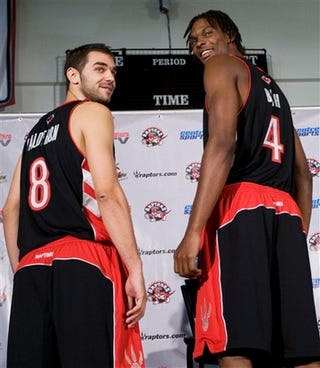 NBA training camps have begun; the season is rapidly approaching. Can you dig it? I knew that you could. And so we continue our previews: 30 of them in 30 days. Up next is a team that I'm previewing before the Spurs. Sorry, San Antonio. They are: The Toronto Raptors.
When last we saw them:
Finished 41-41, second in the Atlantic Division and sixth overall in the East. Season ended in the first round as they played Lex Luthor to Orlando's Superman. Actually, they lost in five games, so they were more like the
Terrible Toyman
than Luthor.
Welcome to Canada:
Jermaine O'Neal, Jermaine O'Neal's giant contract, Jermaine O'Neal's history of injuries, Hassan Adams, Nathan Jawai (is that the plural of "Jawa"?), Roko Ukic (sounds like an enemy of the mighty Thor), Willie Solomon
So long ya hosers:
Carlos Delfino, Maceo Baston, Primoz Brezec, Rasho Nesterovic, T.J. Ford
The Good:
For starters, the Raptors could do much worse than having Chris Bosh as their franchise player: Dude averaged 22.3 PPG and 8.7 RPG last season, and he was Team USA's best big man in the Olympics. Over the summer, Bryan Colangelo transformed "me, me, ME first" point guard T.J. Ford (and some other garbage) into big man Jermaine O'Neal, who can provide scoring both inside and out (mostly out), rebounding (9+ per game from 2001 to 2007), and interior defense (just a shade under 2.0 blocks per game for his career). And trading Ford means that controls to the machine have been turned over to Jose Calderon, who really was the team's best PG last season: He averaged 11.2 PPG and 8.3 APG, was a dead-eye shooter (51.9 percent from the field and 42.9 percent from downtown), and led the NBA in assist-to-turnover ratio (see Fun Facts). And his numbers were even better in the 48 games he started: 13.2 PPG, 8.8 APG and only 1.9 TOV. In 2007-08, Toronto was second in the NBA in three-point field goal percentage (39.2) thanks to the extreme heat generated by Jason Kapono (48.3 percent) and Anthony Parker (43.8). And it's not like those numbers were one-season aberrations: Kapono is the NBA all-time leader in career three-ball percentage at 46.4, and Parker ranks seventh at 42.5. Having not one but two quality big men in the post should mean many more open shots from the outside this season. And although the team disappointed by winning only 41 games last year, there's reason to believe there was some unmined gold under the frozen tundra:
According to basketball-refernece.com
, the Raptor's Pythagorean W-L record was 49-33. And bringing in a talented, defensive-minded center and settling the point guard issue should make them even better. The key word being "should."
The Bad:
How to define the mixed feelings regarding O'Neal? Well, let me put it this way: David Stern is considering legally changing O'Neal's middle name to "If he stays healthy." Dude has missed 40 percent of his team's games over the last four seasons. It's like his body is aging at an accelerated rate, which is great for science fiction and bad for basketball. Especially when the player in question is also making $20 million a year.(As a Pacers fan, I nicknamed him Jermaine "The Drain" O'Neal last season). There's been a lot of talk about how much better Toronto's offense operates when Calderon is running the point (6.0 more points per 100 possessions). But that positive effect doesn't carry over to the defensive end: The mighty dinos give up 4.6 more points per 100 possessions when Calderon is on the floor. So, you know, Jose giveth and Jose taketh away. Chris Bosh has been playing summer ball for Team USA for the past three summers, so you have to wonder whether he's going to be a wee bit gassed going into the season. And for all the talk of Bosh and O'Neal being "complimentary big men," the reality is that both guys would rather feed themselves on a steady diet of 15-foot fadeaways than mix it up on the inside. Plus, O'Neal's a bad passer, a turnover machine (2.0 per game over his career) and needs to use about 23.5 seconds off the clock to set up his shot. Andrea Bargnani plays as if he's locked in mortal combat with Kwame Brown for the title of "Worst Number One Overall Draft Pick Ever." Speaking of the support staff, this is not a deep team. Kapono and Barnani are the best of what they have coming off the bench. After that, it's all Jay Humphries, Joey Graham and Roko Ukic. Which should make you mutter "uh oh..." if you're a Raptors fan.
Fun Facts:
According to a Sports Illustrated scouting report
: "Since turnovers became an official statistic in '77-78, only the Hornets' Muggsy Bogues (two times) had a better assists-to-turnover ratio than Jose Calderon's 5.38 to 1 last season (minimum 300 assists)." The dinos have been hit with 24 technical fouls over the last two seasons, which is the fewest of any NBA team. Toronto gave up 106.3 PPG during the 15 games Bosh missed last season...quite a difference from the 95.3 PPG they held opponents to when he was in the lineup. When the team was founded, many people wanted to name it after the 1946–47 Toronto Huskies, which was the last NBA squad to play in Canada. However, the team was concerned the logo would look too much like Minnesota's timberwolf, so a nationwide name-the-team contest was held. Over 2,000 entries were narrowed down to 10 possibilities: Beavers, Bobcats, Dragons, Grizzlies, Hogs, Raptors, Scorpions, T-Rex, Tarantulas, and Terriers. Personally, I would have gone with the Beavers - great comedic potential - but the name Raptors was finally chosen due to the popularity of the film
Jurassic Park
.
Videotastic extra:
The secret of Chris Bosh's Olympic success?
Training
.