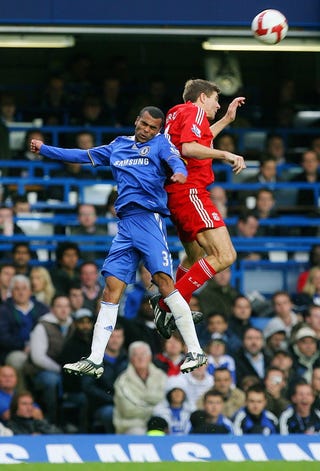 Michael Bertin writes regularly about soccer for Deadspin.
Liverpool fans must still be over
the fucking moon
today. A 1-0 win over Chelsea, giving their 86 game home winning streak the, well, 86, and moving
atop the table
. And I'm not not going to pee on the Reds' parade. I should if only because that's one of about three skills I have. That and parades are intrinsically pretty gay. I mean, It's not like there's a Gay Pride Bullfight or anything. But just shy of the quarter pole, Liverpool are three points clear (I couldn't find a news story indicating whose
house the fans robbed
to celebrate but the safe money is on Xabi Alonso's). Just one quick caveat, though.It's not success against the rest of the Big 4 that really matters. Sure it helps. And with wins over United and Chelsea (and both without Fernando Torres) Scousers probably feel like they've finally appeased the soccer gods since selling their souls
in Istanbul three years ago
; but just two seasons back my beloved Gunners were 3-1-2 in league matches against Chelsea, Liverpool, and Man U, and still finished fourth, something like 20 points out of the title. Losing at Sheffield United will do that. Hey, the gods can be cruel. And Liverpool has already flirted with similar disasters a couple of times the season. The Guardian last week had a stat saying something like if matches were 76 minutes long, Liverpool would be on 7 points. Or in 16th or 17th place. I don't remember exactly, other than there were a few sixes and sevens in it. Oops, I'm peeing aren't I? Look, I've got no problem with Liverpool. I don't live near there, so I'm not likely to be burgled. It's just that almost every time they play Chelsea it's fucking boring. Like eyebleedingly so. From the start of the '06-'07 season, the teams have played each other nine times in the Premier League and Champions League. Between them, they've managed to rack up a total of 15 goals in those nine matches, and five of those—a full third—came in last year's Champions League return leg at Stamford Bridge. That's 10 goals in the other eight matches. Maths! I'm the first to argue that goals don't equal excitement because, well, they don't—shit Hull and West Brom played a scoreless first half Saturday that was like watching the Showtime Lakers play the Showtime Lakers on grass—but after Xabi Alonso's shot deflected in for Liverpool after about 10 minutes, Cole misfired wide left, Deco went high, as did Gerrard, and Alonso hit the post from a dead ball. That was a collective, what, six seconds of excitement. The only other entertainment value in the remaining 80 minutes came from trying to translate the string of obscenities from the front row Chelsea fans out of the Queen's English every time the ref made any call, good or bad. I see "fucking cunt" is still extraordinarily popular in England (also, how the hell did Mascherano draw a yellow when Ashley Cole should have been sent off?). Last season, I hoodwinked three girls to come with me to watch these same teams play. Two of them don't talk to me anymore. Granted I told them they might meet cute Euro boys but neglected to tell them that "cute" meant "doughy" and "Euro" meant "drunk" but the 0-0 draw didn't help. So yeah, matches aren't 76 minutes long and you can't luck your way to the top of the table after nine games (although
third might be possible
). There's still a long way to go, but if not Arsenal, then sure, why can't them. I've got no problem if Liverpool wins the EPL (suck it, Barcalys) once every 17 years. But please, just stop playing Chelsea. Split the points, divvy up two draws, or even a win apiece. Share the gate and take those weekends off—more time
to masturbate
! Anything. Because come the end of next January, I'm going to fall for it again—20-someodd world class players (not you, Anelka), the league top spot possibly for the taking, what could possibli go wrong—when I should just stay in bed and sleep.
The Fucking Moon
[YouTube.com]
Liverpool Show They Mean Business
[Goal.com]
Goal of the Week: Kieran Richardson
[101 Great Goals]