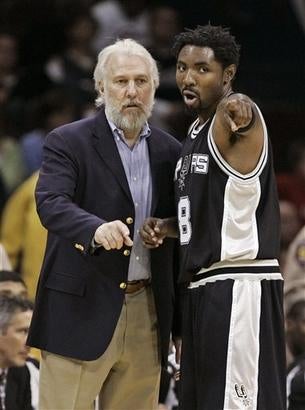 NBA training camps have begun; the season is rapidly approaching. Can you dig it? I knew that you could. And so we continue our previews: 30 of them in 30 days. Up next is a team that is NEW AND EXCITING!! (But not really.) They are: The San Antonio Spurs.
When last we saw them:
Finished 56-26, second in the Southwest Division and tied for second overall in the West. Eliminated by the Lakers in the Western Conference Finals after Manu Ginobili blew a tire.
New:
George Hill, Roger Mason, Salim Stoudamire
Oooooold:
Brent Barry, Damon Stoudamire, Robert Horry
The Good:
You know, any 2008-09 San Antonio Spurs preview is going to read like most 2007-08 Spurs previews. Tim Duncan is one of the best power forwards ever, one of the best centers ever, and one of the best forward-centers ever. Nothing's changed there. (Nor has the fact that he will remain boring and overlooked...except by the people who fall all over themselves to remark on how overlooked he is.) Tony Parker can get to the hoop at will and stick that little midrange jumper more often than you think he should. Manu Ginobili drives, shoots and flops as well as anybody. (
And, actually, he flops better than just about anybody
.) Gregg Popovich will use his mad scientist-like genius to manage the Three Amigos' minutes and make all the spare parts play with surprising effectiveness. They will continue to be a smothering defensive team while running a precise and efficient (read that: slow and boring) offense. In other words: Same old, same old. To spice things up, here are a few words from Liston of
Introducing Liston
: "Uh, duh, we're the Spurs. We run shit. We have Tim Duncan and, in case you hadn't heard, he's a super robot sent back in time to do two things: (1) win championships, and (2) wear button-up shirts with anime on them like a total hardass. And don't give me any of that 'Well, you guys are old and Manu is already hurt and Tony's jumper is, for the most part, unreliable again and last year Chris Paul and Kobe Bryant showed how someone intent on driving into the lane can totally make you guys look like crap' crap."
The Bad:
They're old. Yes, again, just like they were last season. Only, you know, plus one year. Bruce Bowen is 37, Kurt Thomas is 36, Michael Finley is 35, Fabricio Oberto and Jacque Vaughn are both 33, Duncan is 32 and Ume Idoka is 31. Hell, the Spurs had to leave Robert Horry and Damon Stoudamire unsigned just so they could go to McDonald's and buy coffee without having the senior citizen discount forced on them. At some point, they're going to have to restock the shelves with some young, top-tier talent. Right? Ginobili isn't expected back until mid-December due to ankle surgery, and that guy is wicked-important to everything the Spurs do (including shoe-tying Rubik's cube-solving and bathroom-going). According to some complex metrics and voodoo doctoring,
the Spurs completely forgot how to make pointage at the end of last season and into the playoffs
. And, in case you didn't know, the NBA still requires teams to outscore them opponents to claim victory. Now, more from Liston: "The Spurs are old and Manu is already hurt and Tony's jumper is, for the most part, unreliable again and last year Chris Paul and Kobe Bryant showed how someone intent on driving into the lane can totally make us look like crap."
Fun Facts:
Last season, Manu Ginobili was fourth - behind LeBron, Kobe Bryant and Dirk Nowitzki - in clutch scoring, netting five points per 48 minutes of "clutch time" (the last five minutes of the fourth quarter or overtime). Tony Parker has shot an average of 52.2 percent since 2005-06, and no guard has shot better in that time period. TD has snared 595 double-doubles since the start of the 1997-98 season, second only to Kevin Garnett (605). Still more from Liston: "Gregg Popovich grew a beard over the summer and, to quote myself, 'Having a beard is like using your face to silently tell people, I will fight you simply because it's Tuesday. With regard to masculinity, it's the penultimate facial accessory. It's less clichéd than a mustache, more intentional than a scar (that might be the official slogan, actually). Essentially, that fact alone should guarantee another 'ship. And, honestly, I'd be surprised if we lost one game this year.'"
Videotastic extra:
And now you, too, have been Ginobili'd.