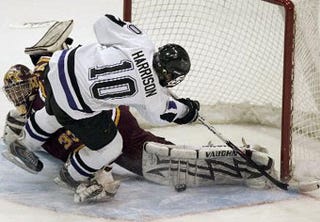 Brace yourselves: This is not a hockey post. It's a
college
hockey post. And it's not even a Michigan State college hockey post—although I'm sure I'll find a way to work a few dozen of those in before the CCHA season is over—but when any athlete pulls off something that has happened maybe twice in the history of their entire sport, I think it deserves a mention. Enter Zach Harrison, a Minnesota State forward who scored three consecutive goals against North Dakota,
all of them shorthanded
.That's what is known as a "natural" hat trick, which the Hockey Hall of Fame suspected had never happened before (shorthanded) at any level. It turns out that it has—C.J. Young of Harvard did it in 1988—but there have still only been six shorthanded hat tricks in Division I history. So the Hall in Toronto took his stick anyway and will keep it in their archives. Try scoring more goals now, smart guy!
The Mavericks led 2-1 when Harrison scored his first goal midway through the second period. Junior forward Jerad Stewart started the play, and Harrison finished with a shot over the glove of goalie Aaron Walski (17 saves). Harrison jumped a pass deep in the Mavericks' offensive zone for his second goal, which came just 53 seconds into the third period. His final goal, with 1:41 to play, was an empty-netter with the Mavericks facing a 6-on-3 situation. Harrison backhanded a loose puck out of the zone, and it slid down the middle of the rink and into the goal.
Zach Harrison is a pretty okay guy to have on your PK
[The Two Line Pass]
Harrison's hockey stick gets the call to the Hall
[Mankato Free Press]