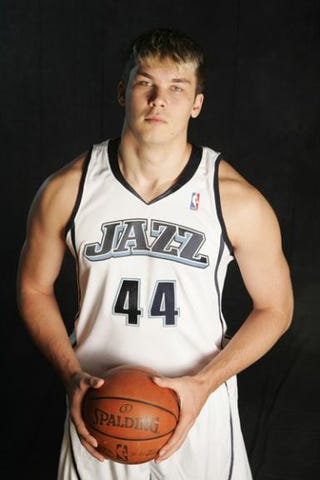 The NBA season has started! But, like, we still have two previews to go! Up next is a team that loves the pick-and-roll...and quiet evenings at home. They are: The Utah Jazz.
When last we saw them:
Finished 54-28, first in the Northwest Division and fourth overall in the West. Lost to the Lakers in the Western Conference Semifinals in part because they fouled Kobe 752 times, of which about 837 were called.
Reluctantly moved to Salt Lake City:
Ante Tomic, Brevin Knight, Kosta Koufos, Tadija Dragicevic...okay, now seriously, those non-Brevin Knight names were made up, right?
Gleefully left Salt Lake City:
Dee Brown (Jerry Sloan is a great coach, but I guess he can't teach height), Jason Hart
The Good:
Jerry Sloan runs a tight ship. He also makes a mean quiche, but his hobbies aren't important right now. Sloan-coached teams are always taught to play a certain style. It's called: Playing Basketball The Way It's Supposed To Be Played. Now, PBTWISTBP leads to focus on defense and discipline on offense, and that has made the Jazz outstanding in several areas. Last season, those areas included the following: 2nd in field goal percentage (49.7), 2nd in assists (26.4), 2nd in free throw attempts (28.0), 3rd in steals (8.7), 3rd in forcing turnovers (15.9), 4th in point differential (+6.9), 4th in rebound differential (+3.07), 5th in scoring (106.2) and 10th in three-point percentage (37.2). Not bad considering that Utah doesn't have a bunch of amazing athletes or a LeBron-level superduperstar. Still, they have talent, and that starts with their All-Star duo of Deron Williams (18.8 PPG, 10.6 APG, 51 percent shooting) and Carlos Boozer (21.1 PPG, 10.4 RPG, 55 percent shooting). These guys fit into Sloan's system so well you'd think Jerry built them in a lab. (And, really, are we sure he didn't?) Williams makes guys better, period, and Boozer is a force in the paint and on the boards. The supporting cast also play their roles to perfection. Mehmet Okur can clean the glass and draw opposing big men out of the paint with his long-distance shooting. Andrei Kirilenko defends as if his life depends on it (and knowing Sloan, it probably does) and is a nightly
five-by-five
threat (when he's not sulking over a lack of shot attempts). Kyle Korver is the three-point specialist. Matt Harpring is the muscle and toughness. Ronnie Brewer is their
Intangible Man
(although, come to think of it, 12 PPG on 56 percent shooting is pretty tangible). And Brevin Knight is the perfect backup PG in a Sloan system. Oh, and it's also worth noting that the Jazz are nearly invincible at home: Last season, they were an NBA-best 37-4 in the Mormon-filled confines of EnergySolutions Arena.
The Bad:
As noted, the Jazz certainly are focused on defense. But "focused" doesn't always mean "successful." The Jazz just don't have a lot of athletes. Read that: They are a slow, plodding team. Their interior defense is soft (Okur) and undersized (Boozer). Moreovers, they often get killed in one-on-one matchups and have to resort to what is known as "The Hack." They were dead last in the league in committing personal fouls (1970) and giving up free throw attempts (2468). Hey, if it's true that defense wins championships - and it certainly has been for most of the decade - then it's also true that a lack of defense loses them. Defense isn't the only concern for this team. Boozer had a well-documented playoff flameout: His averages dropped like a stong (16.0 PPG on 41.5 percent shooting). And he looked pretty out of place on Team USA this summer. AND it's a contract year for him. So who knows what the Jazz can expect from him. Kirilenko is an on-again, off-again head case. Matt Harpring can't seem to stay healthy (his latest affliction, an ankle infection, cost him preseason preparation). Their depth at center (Jarron Collins, Kosta Koufos) is gak-worthy.
Fun Facts:
The Jazz attempted 39 percent of their shots from inside (six feet or closer) last season...best in the league. Due in part to the persistent begging and pleading of Deron Williams, Jazz introductions at EnergySolutions Arena will now have the same dramatic music and lighting as every other team in the league. Jerry Sloan must be thrilled. Speaking of Utah's home court, the Jazz are 68-14 there over the last two seasons. Only the Dallas Mavericks (70-12) have had a better home record. I know this always gets a lot of press, but Sloan has been Utah's head man for 21 seasons! Dude's NEVER going away. Mehmet Okur hit 114 threes last season. Not surprisingly, that tops among NBA centers.
Videotastic extra:
Ouch.