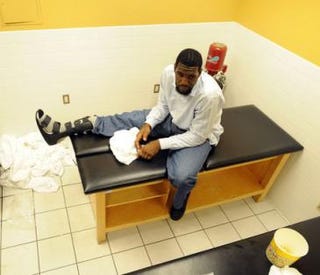 Well, it's a good thing Greg Oden has that creaky knee back in proper working order. That way, the Portland Trail Blazers' medical staff can focus their full attention on his latest injury: A "sprained" foot. I'll give Oden this much: He's already been more durable than he was last season. After all, he managed to play almost three whole minutes of a real, honest-to-goodness regular season game before hurting himself. He hobbled through nine more minutes of first-half "action" after the injury, but he played poorly (zero points, 0-for-4, 5 rebounds, 2 turnovers, 2 fouls) and spent the second half in the locker room wearing a walking boot.According to Oden, he landed on Derek Fisher's foot while going after a rebound. Only Fisher said: "I don't remember a 7-footer on my foot." So what happened?
According to ESPN's J.A. Adande
: "Replays indicate that Oden landed with the weight on the front of his foot, then perhaps his heel hit the top of Fisher's foot, then Oden's foot twisted to the right, after Fisher had moved away." Uh oh. X-rays taken during the third quarter were inconclusive, and Oden is scheduled to have an MRI exam today in Portland. But, as Bill Walton might tell you (in glaring hyperbole no doubt), the description of the injury screams "stress fracture." For his part,
Oden doesn't sound too worried
: "It (stinks). But (I'll) keep on working. It's just a little setback. I'll still be in the gym tomorrow." Know who else isn't worried? Channing Frye. He seems to think that Joel Przybilla pretty much equals Greg Oden. "If [Oden's] hurt, that's part of basketball. We just moved on. Joel's not chopped liver." True. He's more
Salisbury steak
than chopped liver. And although he's certainly not part of the Blazers' grand future plans, his pro career has, so far, certainly outshined Oden's...all 12 minutes of it.