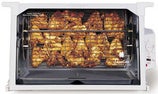 What to watch while you wrap your mouth around this baby ...
• MLB: World Series, Game 5, Part 2, Electric Boogaloo: Tampa Bay Rays at Philadelphia Phillies (8:00 p.m., ET) Why don't we pick this up again next May, when it's nice and warm? [Fox] • Politics: Barack Obama Political Message (8:00 p.m., ET) He's like the Ron Popeil of politics. [CBS, NBC, Fox and others] • NBA: Phoenix Suns at San Antonio Spurs (8:00 p.m., ET) Shaq and everyone guarding him already have three fouls.
[TNT]
[ESPN] • NBA: Los Angeles Lakers at Los Angeles Clippers (10:30 p.m., ET) There's two L.A.s now? How did that happen?
[TNT]
[ESPN]