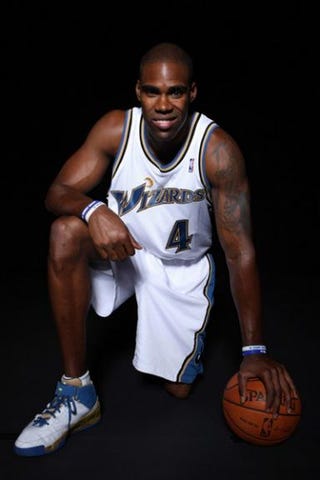 The NBA season has started! And this is the last team we have to preview! They are: The Washington Bullets Wizards.
When last we saw them:
Finished 43-39, second in the Southeast Division and fifth overall in the East. Suffered what is becoming their annual "Elimination by the Cleveland Cavaliers" in the first round of the playoffs.
Can't feel their faces:
Dee Brown, JaVale McGee, Juan Dixon
Can feel his face:
Roger Mason
The Good:
The Wizards generate some of the best player nicknames in the league: Agent Zero, the Black President, Hibachi, Tough Juice, Ocho, the Locksmith, Mister 50, Big Oily, the Poet, the City, Bean Burrito, The White Hole, Gypsy Number 9...why, they've even nicknamed their A and B teams (Big Money and Little Money). They spent a gajillion dollars over the summer to retain two parts of their three-man core. And since it's unlikely other teams would trade for the gajillion-dollar contracts of Agent Zero Knee Cartilage and Antawn "Why don't
I
have a cool nickname?" Jamison, they'll probably be Wizards for life. Gilbert Arenas can put up a lot of points (when healthy) and be a potent playmaker (once his own shot-lust is satiated). Antawn Jamison continues to score (21.4 PPG) and rebound (10.2) despite being on the other side of 30. Caron Butler has developed into a big-time basket maker (20.3 PPG), an above-average boardsman (6.7 RPG) and a latter-day point forward (4.9 APG). DeShawn Stevenson doesn't back down to anybody. Andray Blatche, Antonio Daniels, Nick Young and newcomer Juan Dixon should give them okay production off the pine. Etan Thomas is back. Oh, and hey, they ranked fifth in free throw percentage (78.2) last season!
The Bad:
They spent a gajillion dollars over the summer to retain two parts of their three-man core. Don't get me wrong. I love Gilbert Arenas. I do. He's a funny guy and a natural born entertainer. But I didn't see the Wizards offering Dane Cook a $100 million contract over the summer. Hibatchi is a volume shooter who, over the course of his career, hits about 42 percent of his field goal attempts. His teams have never won anything of significance. His knees continue to betray him. Oh, and the Wiz actually seemed to play better without him last season. Jamison is in his 30s and coming off a knee injury, so it's likely his effectiveness is going to diminish. DeShawn Stevenson may be an
hombre
, but he also has a very limited skill set...only he doesn't quite realize it. Brendan Haywood, last year's surprise player, is expected to miss most of the season while recovering from wrist surgery. They often get too caught up in trash-talk battles. Although this team won 43 games last season,
advanced mathematics
and voodoo tell us that they weren't even that good. The reason? Washington was painfully mediocre (or worse) in almost every conceivable category: 30th in opponents' three-point percentage (38.6), 27th in assists (19.6), 22nd in field goal percentage (44.6), 20th in opponents' field goal percentage (46.1), 19th in free throw attempts (24.3), 17th in three-point percentage (35.6), 15th in point differential (-0.3), 14th in scoring (98.8), 14th in rebound differential (+0.40) and 12th in points allowed (99.2). So, you know, it's hard to imagine this team becoming a serious contender with or without Arenas.
Fun Facts:
Name drama! The Wizards franchise began as the Chicago Packers in 1961-62. The next season, they changed their name to the Zephyrs. In 1963, the franchise moved to Baltimore and became the Baltimore Bullets. In 1974, they moved to Washington and became the Capital Bullets, but that name was changed to the Washington Bullets one year later. In 1995, owner Abe Pollin announced that the franchise was to be renamed because Bullets sounds really scary and Washington, at that time, was the murder capital of the United States. A contest was held to choose a new name and the choices were narrowed to the Dragons, Express, Stallions, Sea Dogs, or Wizards. (Personally, I'm bummed out that Sea Dogs wasn't chosen.) On May 15, 1997, the Bullets officially became the Washington Wizards. The change generated some controversy because Wizard is a rank in the Ku Klux Klan. This proves, once again, that you can and will offend one or more people no matter what you do. On to other subjects. The franchise has produced only one MVP: Wes Unseld in 1969. The team has also produced three Most Improved Players: Pervis Ellison (1992), Don MacLean (1994) and Gheorghe Mureşan (1996). Of course, those players immediately de-improved after winning the award...
Videotastic extra:
And now...Agent Zeroes funniest hits!