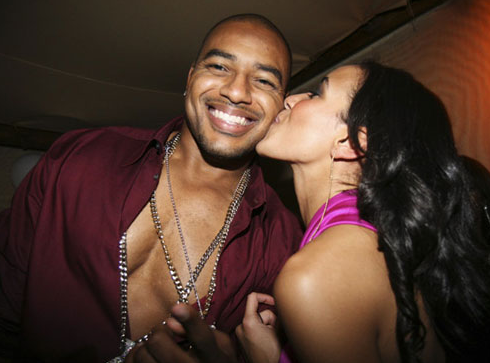 Everyone's favorite rap superstar befriending, boyfriend threatening running back has been suspended for one game without pay by the NFL. Johnson, who has been deactivated by his employer for the last two games, will not play against the Chargers next Sunday. The Chiefs didn't seem too upset about the suspension, and released the following statement :
"We respect the decision of Commissioner Goodell," said Carl Peterson, president of the Kansas City Chiefs. "The NFL Player Conduct Policy sets forth a set of standards that all NFL players, coaches and staff members must abide by. Upon the completion of his suspension we sincerely hope that Larry will be ready to return to the field for the Chiefs determined to make a positive contribution to our team and, with the assistance of the people around him, turn his life around."
Though one game for allegedly threatening to kill a man doesn't seem like that large of a penalty, the ramifications for Johnson here could end up being quite severe. He stands to lose out on about $3.5 million in guaranteed money next year, and depending on the outcome of his other legal issues, the Chiefs' running back could find himself in more hot water with the NFL down the road.
Chiefs' Johnson suspended one game by NFL
[Kansas City Star]
Chiefs Statement on NFL Suspension of RB Larry Johnson
[KC Chiefs.com]