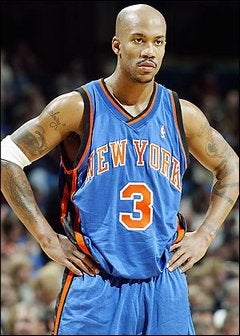 Once again, the NBA's highest paid bench-warmer did not take part in the Greek tragedy that is otherwise known as New York Knickerbockers basketball. After conferring with head coach Mike D'Antoni at the team's hotel in Philadelphia last night, Stephon Marbury and his annual salary of $21.9 million were asked not to put on a uniform. Prior to coaching his team to a 29-point loss against the Sixers, D'Antoni attempted to
explain the rationale
behind the deactivation of the team's highest-paid player.
"It's not that he's done anything," D'Antoni said before the game, adding that he should have listed Marbury as inactive against the Heat in the season opener on Wednesday, when Marbury dressed but did not play. "It's just the team is going in a different direction. He's been in the league for a long time. I'm not going to put him out there for four minutes."
Marbury, for his part, took a philosophical approach to things.
"I'm not frustrated at all," Marbury said. "I have no control over it. If it was raining outside, I can't get mad if it's raining. I've got to go get an umbrella and then walk in the rain. I have no control over the situation."
Among the teams
reportedly interested
in the services of Coney Island's finest are the Denver Nuggets and Miami Heat. Marbury in South Beach, battling for shots and the spotlight with Dwyane Wade and Shawn Marion? Yes, please, and may I have another?
As Marbury Watches, Knicks Take a Step Away
[NY Times]
Steph Deactivated; Divorce Likely
[NY Post]