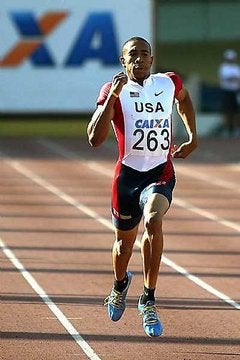 Pictured above is Bryshon Nellum, who runs track for USC. The Halloween party he attended last night didn't go so well. As in, he ended up in the Emergency Room, after getting shot three times in the leg. The good news is that Nellum didn't suffer any life-threatening injuries , and might even race again someday.
USC track coach Ron Allice says Bryshon Nellum's Friday night surgery was successful and doctors are hopeful the 19-year-old will be able to resume his track career. Police say the shooting occurred at a restaurant near USC early Friday as the party neared its end. No arrests have been made.
That's obviously wonderful news for Bryshon and his family. But,
man
, Halloween must be a real bitch for the fuzz to work. "Hey, officer, I saw the shooter! He was wearing a Nixon mask."
USC sprinter shot at Halloween party
[LA Times]