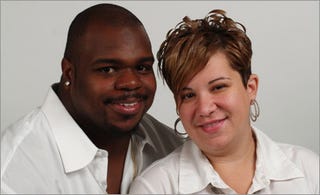 Bianca Wilfork isn't your typical NFL wife. She's more of a business manager for Vince Wilfork, handling
virtually everything
outside of football for Vince. And above all else, she watches his games closely.
Very
closely. Bianca put her DVR skills to good use this week, and probably saved her hubby from a suspension by the NFL (though, his wallet did take a $35K hit). Chris Mortensen has
the details
(take that, Glazer!).
Wilfork's wife Bianca, who joined Wilfork for the meeting, handed Goodell the DVD with a different camera angle that showed Wilfork may not have hit Denver Broncos quarterback Jay Cutler in the head on a play in the Oct. 20 meeting between the Broncos and Patriots. On the alternate DVD, Cutler could be seen picking himself up and patting Wilfork on the helmet after the play.
Now, that's what you call a supportive wife. Anyway, Wilfork will join his Patriots teammates on the field shortly, as they battle the Indy Colts. Do feel free to use this story as an excuse to watch the game with your significant other; just don't make the mistake of hinting that she could learn from it and improve. (
Image source
)
Patriots' DVD saved DT Wilfork from suspension by NFL
[ESPN]