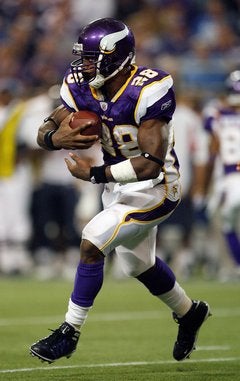 • Minnesota @ Houston
: Purple Jesus and the Vikings (4-4) beat the Texans 31-28, stopping Houston's winning streak cold at three. Peterson rumbled for 139 yards and reached the house once.
• Packers at Titans
: The game is final (19-16 for the Titans), but we have one final dispatch from Reader Mark: "Titans fan in New York here. About 1 second before Bironas' OT kick, the NY Fox affiliate cut to COMMERCIAL, then went to Joe Buck and Troy Aikman talking, then showed the start of the Cowboys-Giants game, then went to a game break to show the kick. Now, I know in NY the Giants will preempt all, but couldn't we have gotten to watch the final kick? Why'd they have to go to a commercial right that second?" (Some questions have no answers, Mark. Sorry, mate.)
• Tampa @ Kansas City
: Matt Bryant's 34-yard kick ended this OT thriller. The Chiefs rode the arm of one Tyler Thigpen (164 yds), and he even caught a 37-yard pass. Is there anything Tyler Thigpen can't do? Wait, don't answer that.
• Ravens @ Browns:
The Ravens dominated the fourth quarter, and escaped Cleveland with their fifth win of the season. Terrell Suggs drove the final stake into the Browns' hearts when he intercepted Derek Anderson with a couple of minutes to go and ran it back for a TD.
• Arizona @ St. Louis:
The Cards were never really threatened in this one, and used a 24-point second quarter to expunge St. Louis. Warner, as previously mentioned, had himself a monster day (342 yards, 2 TD)