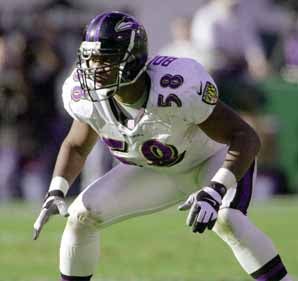 A rundown of those local and national political races involving sports-type humans ...
I'd have more respect for athletes who turn to politics if they didn't didn't always fall back on the predictable; using sports jargon in their campaign speeches. Of course Peter Boulware, who is running for a seat in the Florida state House of Representatives in
a tough battle with Democratic opponent Michelle Rehwinkel Vasilinda
, is going to trade heavily on his jock appeal. But does the former Florida State star and franchise leader in sacks for the Baltimore Ravens have to lean so heavily on the locker room vernacular? From a campaign video: "I know what it means to play hurt, and Florida is playing hurt." Hmm. Well, at least he didn't say something like: "I know what it means to have jock itch, and Florida — which looks like a giant penis, let's face it — has jock itch." Video below. This one has been loads of fun. Back in September,
Boulware got a cease and desist order
from Florida State, demanding that he remove depictions of the FSU logo that he had been using on his campaign signs. And the Boulware campaign is accusing the Vaslinda people
of employing dirty tricks
. Enjoy, Floridians. [
Peter Boulware campaign site
] [
Michelle Rehwinkel Vaslinda campaign site
] •
KJ Driving Hard To The Hoop In Sactown
. Former Phoenix Suns guard Kevin Johnson seems to have weathered a couple of bothersome issues and has a good shot at becoming Sacramento's first black mayor. In a poll taken by the Sacramento Bee last week,
Johnson led incumbent Heather Fargo by eight percentage points
. Both are Democrats. Johnson had been dogged by health code problems with some property he owns, and also some old allegations
of improper behavior with a teeanage girl
for which he was not prosecuted.
Here's a video where they compare their stands on a few issues
, which I show to you mostly because it begins with an Emmitt Smith "Good Feet Arch Support System" commercial. [
Kevin Johnson campaign site
] [
Heather Fargo campaign site
] •
Shuler Campaign Enters The Red Zone; What Could Go Wrong?
Despite the efforts of disgruntled Redskins fans
to keep him out of Washington
, former NFL quarterback Heath Shuler was elected to the U.S. House of Representatives in 2006 from North Carolina's 11th district. Shuler, who once threw five interceptions in a game against the Cardinals, faces a heated reelection bid against Republican challenger Carl Mumpower, the "Mountain Maverick" who has never thrown an NFL interception. Despite that fact,
Shuler is heavily favored
. The two engaged in
a ferocious debate on Thursday
on Radio 570 WWNC, in which Mumpower repeatedly accused Shuler of being a "Pelosi liberal" and Shuler suggesting that Mumpower is interested more in "trying to gain an Emmy on C-SPAN" than getting anything done in congress. After the quip Shuler was then sacked for a loss of 11 yards. [
Heath Shuler campaign site
] [
Carl Mumpower campaign site
] •
Steve Young Has Gone Rogue On Prop 8
.
Jeff Kent
is for it.
Steve Young
— or more specifically, his wife — is against it. It's Proposition 8, the proposed California amendment that would ban marriage by same-sex couples. It's been a fun debate so far: In Torrance (near Los Angeles), a man was charged with a felony hate crime recently for attacking a gay man with a "Yes on Prop. 8" lawn sign. Currently the proposition is lagging in the polls by about five percentage points, which means the no votes are ahead. Funny that Young is on that side of the issue, since he's a Mormon, and Mormons are bankrolling the Yes campaign. This would all make a very interesting episode of
Big Love
. •
Smells Like A Landslide
. This has nothing to do with sports, but
San Francisco's Proposition R
would rename the city's sewage treatment plant after George W. Bush, which I think is hilarious.