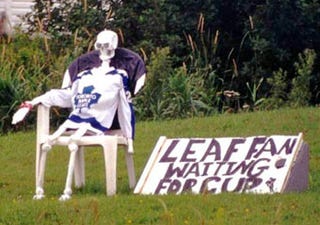 It's still early in the NHL season, but the Toronto Maple Leafs are solidly in 4th place—right where they've belonged for the past three seasons. If you're not familiar with the rules of ice hockey, that's bad. However, the organization that owns the team—Maple Leaf Sports and Entertainment—is doing just dandy. Every game is sold out, blue and white jerseys sell like hot cakes, and in a survey that ranked all 122 major professional sports teams based on their willingness and ability to reward fans ... they came in 121st. (They pass the savings on to no one!) But at least one person who covers the Leafs has an explanation.
The fans are to blame
. You see, if all those die hard Leafs fans would quit paying for tickets and watching the games on TV and generally just stop caring whether their favorite team wins or loses, then maybe they wouldn't have anything to complain about.
Face it… you just can't control yourselves. And, the folks on Bay Street love you for it… so much so, that they refused to budget for playoff dates next spring at the ACC. I mean, why go down the same path of futility for a fourth consecutive year? Season-ticket renewals are dispatched after the Stanley Cup tournament concludes, prompting a wild stampede to the mailbox — cheques faithfully enclosed; interest about to accrue. The extra kick in the wallet from 100 percent renewals in early summer surely takes the sting off lost playoff gates, don't you think?
He also manages to work in a dig at Cubs fans, which is laudable, but misguided since the Cubs actually made the playoffs the last two years. Still, the idea that devoted fans who pay to support a losing team somehow get what they deserve doesn't really sit well with the Leafs Nation. So they're protesting. Or boycotting. Or signing a strongly-worded blog post. I'm not really sure what they're up to actually, but one thing is clear—they are mad as hell, and they are going to continue to take it for a little while longer! (But only from the team that continues to disappoint them, not the media.) •
Most Valuable Losers Once Again
[Hockey Buzz] •
An Open Letter to Toronto Maple Leafs Fans
[Pension Plan Puppets]