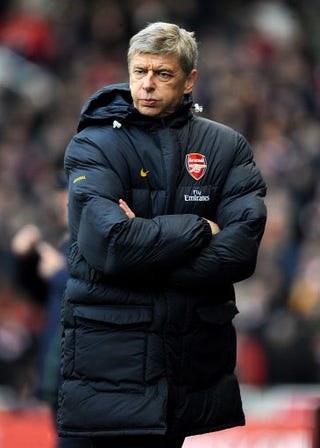 Michael Bertin writes regularly about soccer for Deadspin
So I was Superman for Halloween. And, once in costume, I had this great idea, I would start flying from east to west really, really fast. That would reverse the spin of the Earth and time would start moving backwards. I'd go until Wednesday—right about the 86th minute of the Arsenal v. Tottenham match where Setanta showed Harry Redknapp sunk into his chair as he looked at the clock and the scoreboard and realized he'd just inherited the captaincy of the Andrea Doria—and warn Arsene Wenger of the collapse equally spectacular and improbable about to befall the Gunners. He'd make the necessary defensive adjustments, the natural order would be maintained and, most importantly, I wouldn't have had a good third of my soul permanently crushed (it's okay, wasn't using it anyway). There was just one tiny flaw with the plan.Once at the Emirates, how was I going to get near enough to Wenger without security thinking I was a crazy person in Underoos shouting nonesense to a genius (or "genius") trying to methodically kill off the dying moments of an unblowable 4-2 89th minute lead?
Fuck me
. I wasn't even Superman. I was
Zero
. And Zero can't go back in time. Zero can't do shit. I'd almost wished I were a Phillies fan on Wednesday if only so I could find out if it's possible to go from the absolute bottom of sports fandom to the peak in about eight hours time, or if those two things even out and leave you in some agreeable middle, like you're on Paxil. As bad as Wednesday's collapse was, I couldn't tell you if Arsenal's Saturday loss to Stoke was worse because, well, I slept through it. First, uh, it was the morning after Halloween. Second, there was no need. Arsenal couldn't possibly drop more points to a team that earned promotion this season. Have I said,
"Fuck me"
yet? I'm going to go ahead and guess that it was indeed worse. At half Saturday, the Gunners had 72% of the possession and were still trailing because they couldn't defend a fucking throw in. At least Arsenal hung on to a point against Spurs. It's not all bad. The Gunners are top of a
table
, just not the one you want to be leading (I wonder what the tie breaker with West Ham is). Also impressive is Wenger going from "maybe they can win the league" to "maybe he's no longer the right manager" in just one week. That's got to be some kind of a record. Looking at the
actual table
it seems like order is already in place. After 11 matches the so-called Big 4 are sitting top four. But at some point, it's no longer "still early" and you know what your team is. Arsenal isn't competing for the title this year, they'll have to fight to hang on to a Champions League spot. The backline is shit and, until Saturday, they'd been captained by a crazy person. Probably knew that in August. Can't deny it anymore in November. And out of a possible 12 points to bottom-halfers and recently-promoted Tottenham, Fulham, Stoke, and Hull, the Gunners salvaged a single point. You can't do that and challenge for the league. I'm pretty sure that was one of the points
I was making last week
and Liverpool fans got their panties in a wad (a couple of them anyway). Then the Reds went out lost to a side currently occupying a relegation spot and promptly fell out of first (but hey, midweek you lowered the bar for leaving it late until only the 73rd minute... Bwa ha ha, God, it's almost too easy). Yeah, there is still a long way to go. And Liverpool is only in second on goal difference but you don't get those points back, and with one exception Chelsea is cruising against the lesser sides and, with Ronaldo back healthy, United is methodically moving up the table. At least I know what the future probably looks like. It's a three team race for the league. Not only is yours (that is, mine) not one of them, it'll take some doing just to live up to the "Thirdsenal" moniker earned in the current trophyless streak going on in North London. And even with a few other cups still there for the taking, without a serious righting—hey, the Stockholm, while scathed, didn't sink—and quick, it might be another season where Arsenal wins zero.
My Hero, Zero
[YouTube]
Altidore Scores His First Goal for Villarreal
[New York Times]