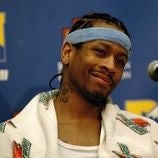 The Detroit Pistons are this close (imagine my thumb and index fingers very near to each other) to trading Chauncey Billiups, Antonio McDyess and Cheikh Samb to the Denver Nuggets for Allen Iverson. The
Detroit News was first on this
, and others are now saying that the deal has been agreed to in principle and could be final within the hour. Part salary cap move, part "we have to try
something
new", this is one of those deals that has the potential to shake up future playoff races in both conferences—or their respective player contributions will offset each other and both teams will end up right back where they started. Either way. There are others infinitely more qualified than myself to discuss the X's and O's of this move, but the fact remains that even if he's on the back side of his career, the name "Allen Iverson" still perks up ears. The Pistons have been to the conference finals six years in a row, but haven't won since 2004, so adding a dynamic player like him gives fans a new reason to hope. On the other hand, Chauncey Billups is a big reason they've gone to those conference finals and he's a fan favorite. Are Pistons fans excited or angry now? Do Denver fans feel burned by the too-brief AI Experience? Will I have nightmares about Kelly Tripucka tonight? The answer to at least one of those questions has to be yes.
Pistons near deal for Allen Iverson
[Detroit News]
If true, this is a good trade for both teams...
[Denver Stiffs]