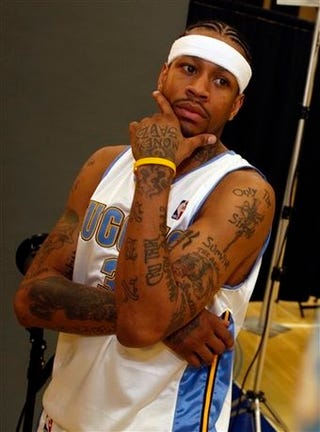 So Allen Iverson is now a Piston. And Chauncey Billiups is heading back to Colorado. And the world now knows the name Cheikh Samb. But what does it mean for Detroit, Denver, Antonio McDyess and the rest of the NBA? Detailed analysis, educated guesses, wild speculation and whatever the hell Woody Paige does below:For starters, McDyess isn't going anywhere. The Nuggets will buy out his contract—which under the league's convoluted salary rules somehow makes them money. Then they will waive him, he'll wait 30 days and re-sign with Detroit for less money. Samb ("as big a project that there has ever been") is headed to the D-League and may never contribute a single thing ever. So essentially, it's a straight-up trade that the Nuggets believe makes their starting lineup into an actual basketball team and saves them cash. As long as no one tells Chauncey that he's 32 years old. The Nuggets players seemed disappointed, but coach George Karl is not. "If you look at my history, I've always had good point guards, and we've gotten away with winning (here) without an all-star caliber point guard." That's a polite way of saying, "You're no Gary Payton." Billiups isn't either, but he will pass the ball sometimes and has "always dreamed of winning a championship with the Nuggets," which is sort of like dreaming that Superman would come to your birthday party, but he was just a kid. For the Pistons, this is a low-risk, high-reward gamble. Obviously, they're good enough to reach the conference finals, but no one believes they're going any further without some change. So they take two big contracts off the books and pray Iverson blows up for the final year of
his
contract, dribbles circles around Paul Pierce come playoff time, then the Knicks give him $50 million while Detroit polishes another trophy. But in the worst case scenario, they're no better off than they were last year, Iverson leaves anyway, and they start over next summer with a clean slate and more money to play with. Rasheed Wallace now has competition for craziest athlete in the building, but at the very least we'll get a few laughs out of that. Other results from the big trade: Juwan Howard is out of a job (at least until the McDyess situation is resolved) and Woody Paige threw out his tail bone attempting to pull off a
very tortured chess metaphor
. Seriously, I have no idea what that guy is saying. J.R. Smith is a rook or something? How about that hair? The most important question of all though: Will Rodney Stuckey get to keep the his No. 3 jersey? Inquiring minds want to know!
Nuggets ship A.I. to Detroit for Billups
[Denver Post]
Looking into the costs of the Billups/McDyess trade...
[Denver Stiffs]
Roster Analysis: Detroit Pistons Trade Billups and McDyess to Denver Nuggets for Iverson
[Indignant Sports]
Bearings On My T-Shirt
[Free Darko] Photo: AP