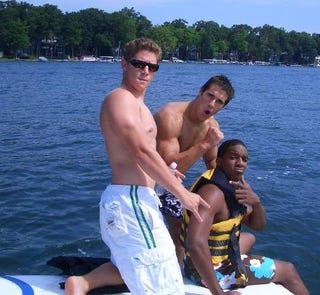 After yesterday's extraordinary news that the Brady Quinn era begins in Cleveland Thursday night, let's see what the rest of the sports blogosphere has to say about his long-awaited coming out party. Oh, and Browns coach Romeo Crennel wants everyone to know that this last minute decision wasn't at all influenced by the fans in an effort to save his job. Nope. Not at all.
•" Last night, Mortensen speculated that head coach Romeo Crennel may not have "been on board" with the switch because "receivers have been hurt, haven't been running routes correctly, been dropping passes," so on and so forth. And that actually makes sense given Crennel's "Anderson's our starter for now" comments on Monday afternoon." [
Fanhouse
]• "Hi, I'm Brady Quinn, the new starting quarterback for the Cleveland Browns. Now I may not be a Californian, but I'm here today to encourage you gay-loving liberals to come to your senses and vote Yes on Proposition 8....
Oh my god Tim, get your hands out of my pants, I'm trying to talk to the people here!
[
KSK
] • "It's quite rare to see any announcer just completely go after a team on ESPN, but it definitely happened yesterday when Trent Dilfer absolutely ripped the hell out of the Browns for deciding to bench Derek Anderson and name Brady Quinn the starter....Even more impressive, Dilfer went right after Browns fans, saying that they're the reason why the Browns continue to make stupid moves as an organization." [
Fan IQ
] • "In the eyes of many Browns fans – it's about time. Last years first round draft pick Brady Quinn will get his first start for Cleveland on Thursday night when the team takes on the Denver Broncos at Browns Stadium, as the team is benching Derek Anderson." [
Browns Gab
] • "Listen up, Cleveland. Your whole team is FAILING. Not just Derek Anderson. If Braylon Edwards doesn't drop that ball in the end zone, you might actually have won that game. MIGHT being the key word. Either way, I think it's been a group effort on your team's part to stink it up." [
One For The Other Thumb
] • "Brady Quinn, who got my vote as the 2007 hottest player in the NFL despite throwing only eight passes, will get his first start Thursday night at home against the Denver Broncos." [
OutSports
]