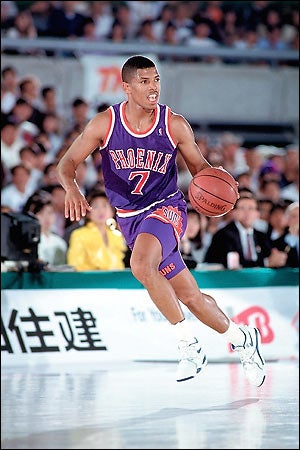 The votes haven't all been counted yet — this is California, where we're the last to know anything — but it seems that former University of California and Phoenix Suns guard Kevin Johnson is now the mayor of Sacramento. Why is he being punished, you ask? No, he sought this office, beating incumbent Heather Fargo, 57 percent to 43 percent with 97 percent of the precincts reporting, becoming the city's first black mayor. But KJ is only one of several people with sports ties who swept into political office on Tuesday. (Yes, Redskins fans, Heath Shuler is back!).
Johnson put some flash into his campaign with the backing of basketball royalty Shaquille O'Neal, Magic Johnson and Charles Barkley. He wants to raise the profile of his hometown and bemoans his city's image beside the likes of Los Angeles and San Francisco. "We should be a destination place," he said leading to the election.
Um, good luck with that. Johnson pulled out the victory despite several thorny issues from his past, one of which involved
some alleged smooching with underage girls
. There were also the reports that he's a slumlord, and that, hilariously, he was caught last week in city hall after hours
sitting in the mayor's chair
. But no matter, he's in, and now you can rest assured that the Kings aren't going anywhere. Elsewhere in that strange netherworld where sports and politics collide: •
Yes Heath Can
. Despite the pleas of shellshocked Redskins fans to remove him from their D.C. midst, former NFL quarterback Heath Shuler
will return for another term in the House
. Shuler, a Heisman Trophy runner-up at Tennessee who played quarterback for the Redskins and Saints, is a North Carolina Democrat from the 11th district. He beat Carl Mumpower, whose main political strategy seemed to be
this Photoshop creation
. •
Today Pickens County, Tomorrow The White House
. Sam Wyche, who coached the Bengals when they lost to the 49ers in the 1989 Super Bowl, won a seat on the Pickens County Council in South Carolina, running as a Republican. Ironically, Wyche, once a quarterback at Furman, won by carrying the district that includes Clemson University. •
Joe The Pummeler
.
Joe Mesi
, a heavyweight who once had to leave boxing due to bleeding in his brain, lost a New York state Senate seat to Republican Michael Ranzenhoferg. This despite Mesi having the backing of Buffalo Sabres owner B. Thomas Golisano. •
Turn Those Machines Back On!
Peter Boulware, who cracked heads at linebacker for Florida State and the Baltimore Ravens, was vying for a seat in Florida state legislature, and appears headed for a recount. •
And The One You've All Been Waiting For ...
San Francisco's Proposition R, which would have authorized changing the name of the city's Oceanside Water Pollution Control Plant to the George W. Bush Sewage Plant, encountered a shitstorm of opposition,
losing 69 percent to 31 percent
. And now, a very special message from Chris Bosh:
Kevin Johnson The New Mayor Of Sacramento
[NBCSports]