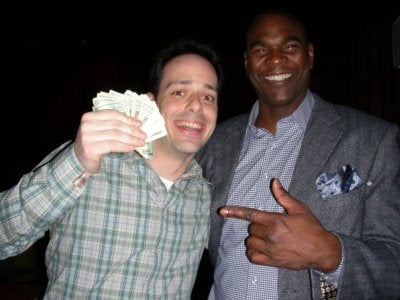 Keyshawn Johnson's post-NFL career as an ESPN analyst has established him as a compelling on-air personality. Television producers have noticed, and now the loudmouth former receiver with the sartorial flair is taking his eye for interior design to the people — and basic cable. In one of the wackiest reality show ideas this side of "Whore Island", the A &E network has green-lighted "Keyshawn Johnson: Tackling Design" for 2009. Awful Announcing has the press release:
Outspoken NFL veteran wide receiver Keyshawn Johnson may be known best for his play on the field, but now he's putting a completely different set of skills to the test in "Keyshawn Johnson: Tackling Design." Furniture, fabric and finishings used to be just a hobby, but with his football days behind him Johnson's wide-receiving now has more to do with fitting furniture through the front door of a house. Will clients take this former pro-athlete seriously as an interior designer? The ten episode half-hour series follows Johnson as he tries to make a name in the world of interior design. And given the pressures and personalities, Johnson's famous temper is sure to be put to the test.
It's good to know that the producers of the show see the benefit of keeping "Johnson's famous temper" as part of the show's narrative arc. I can't think of a more compelling half hour of viewing than watching Keyshawn walk into an under-utilized space to yell at a stranger about color schemes and where to put the ottoman. Good news for LA residents — you could be one of
Keyshawn's first victims.
Keyshawn Johnson Now has a reality show
[Awful Announcing]