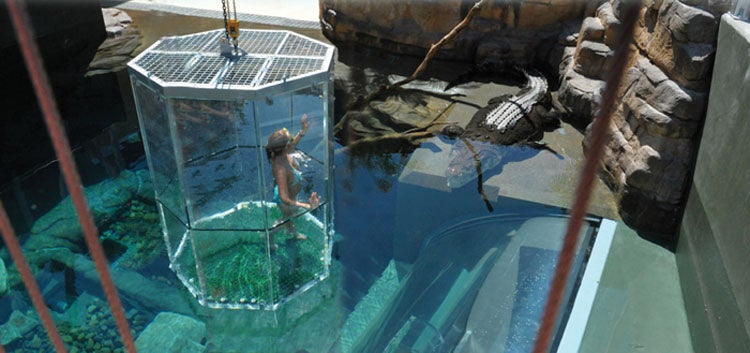 There are many times in life when you're justified in saying 'I'm not getting in there.' The Raiders' Black Hole immediately comes to mind, as do the restrooms at Ralph Wilson Stadium. And I've also pretty much made it a rule never to allow myself to be submerged amongst enormous, hungry crocodiles; call me a pessimist. What a sad, sad waste of a hot Australian babe. Most intriguing aspect of the Cage of Death, the newest attraction at Crocosaurus Cove , an Australian animal park: The many teeth marks on its clear acrylic outer surface.
The cage has no bars, unlike cages used in shark dives, which prevents the reptiles from gripping on but deep teeth scratches are visible on the sides, deterring some hesitant participants. The cage is then slid along runners over four crocodile pens, carrying a maximum of two divers at a time, and partly immersed in the water so swimmers can see the crocodiles under the water but also come up to the surface for air.
I took shop in junior high, and I know what mishaps can befall acrylic. It's one of the most unstable substances known to man; practically fucking impossible to join and liable to snap apart at the merest jostle. 18-foot crocodiles, meanwhile, have been known to eat cars. Fuck this.
Thrill Seekers Snap Up New Aussie Dare — Croc Swim
[Yahoo News]
Crocosaurus Cove
[Home Page]