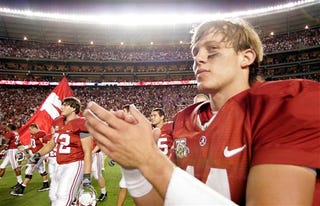 Alabama's John Parker Wilson is the latest SEC player attempting to overcome the LSU fans snagging his cell phone number and listing it everywhere on the internets. Confounding Cajuns. You'll recall that
earlier this season Knowshon Moreno and A.J. Green were the victims
. They joined Tim Tebow from last year. Imagine what people in Louisiana would be capable of if they focused as much energy on literacy. Anyway, for the record, John Parker Wilson's old cell phone number was 205-910-2876. It's already been disconnected, so it's too late for you to call and make fun of his 'Bama Bangs. How pissed would you be if LSU fans put your cell phone number on the internet and you had to switch to another number? Especially if you were a starting quarterback in the SEC and didn't even remember the names of most of your regular, ahem, post midnight lady calls. Yeah, thought so. Nick Saban should thank his lucky stars that his number didn't get out there. Anyway, here are 9 interesting games worth noting.
Ohio State (-11) at Northwestern
- Who's rooting harder for Ohio State to finish the rest of the season without a blemish than Penn State fans? The answer is no one. Back in 2004 Northwestern upset Ohio State. Fresh off their road upset of Minnesota can Northwestern pull off another shocker? A noon kickoff probably helps. But having intelligent football players probably hurts. Damn.
Georgia Tech at North Carolina (-4)-
The ACC is a swamp of mediocrity. Every team in the Coastal Dvision of the ACC already has two losses. The loser of this game will definitely be eliminated from contention. I think. But who really knows? A win and UNC has their first winning season since 2001. Tech's quarterback, Josh Nesbitt, may not be able to play. Enjoy.
Alabama (-3.5) at LSU-
- Coming soon, a congressional inquiry into how LSU fans are capable of figuring out football player's cell phone numbers. Two weeks ago Knowshon and Stafford responded to their cell phone numbers being leaked with their best games of the season? Can JPW do the same? Who knows? Better question, how many people in Alabama commit suicide if Bama loses to LSU and then finds a way to lose to an awful Auburn team for the 7th year in a row, meaning they don't even win the SEC West. Over/under is 15.
Including the always eloquent Cowboy
.
Kansas State at Missouri (-27.5)-
The over/under on this game opened at 74. That's truly unbelievable. Well, that and the fact that everyone has written off Missouri as a factor in the national scene. Am I the only one who sees Missouri upsetting the Big 12 South winner in the Big 12 title game? Yeah? Oh well.
Florida (-24) at Vandy-
Since losing to Ole Miss 31-30 Florida has outscored their past four SEC opponents 201-43. Included were two top ten wins over Georgia and LSU. That's an average of 50-10. Now they get Vandy. A team that scored 7 points against Duke to lose their third consecutive game. This is going to be incredibly ugly. It's a good thing ESPN picked up this game for national broadcast.
Penn State (-7) at Iowa
- Can Penn State stop Iowa's tailback Shon Greene from running? If so, they'll blow Iowa out. If they can't, this game might give Joe Paterno heartburn. That's provided, of course, that he actually realizes what the stakes are for his team that remains slotted at BCS #3. Earlier this week Paterno was confused whether it was BCS or BSC. This is Penn State's last road game.
Arizona (-41) at Washington State
- In their last two games Washington State has been outscored 127-0. That's bad. What's worse? In their last five games WSU has been outscored 284-30. WSU's defense averages giving up 49.4 points a game. Is there any doubt that the Washington-Washington State game is going to be the most futile "rivalry" game in the country this year? 1-10 vs. 0-10. I can't wait.
Oklahoma State at Texas Tech (-3)
- If you don't really have a rooting interest, don't you have to favor Mike Leach in the BCS Title game? Most coaches are circumspect and reserved. Leach is an insane lawyer who graduated from Pepperdine and, wife and child in tow, took a coaching job for $7,000 a year . By the way, if you haven't read Michael Lewis's profile piece on Leach from three years ago in the New York Times, now is the time to do it. One of the best profiles I've ever read. Sample line:
Each off-season, Leach picks something he is curious about and learns as much as he can about it: Geronimo, Daniel Boone, whales, chimpanzees, grizzly bears, Jackson Pollock.
Cal at USC (-22)-
Do you ever get the feeling that no matter how much the linemaker installs USC as favorites by the line is going to move higher? And USC is still going to find a way to cover. I'm picturing some sallow-skinned man sitting in front of a bank of computers slowly pulling out his red hair while game film of Pete Carroll strutting down the sideline plays on a constant loop. Yep, it just happened again. USC opened as 17 point favorites and now they're up to 22.