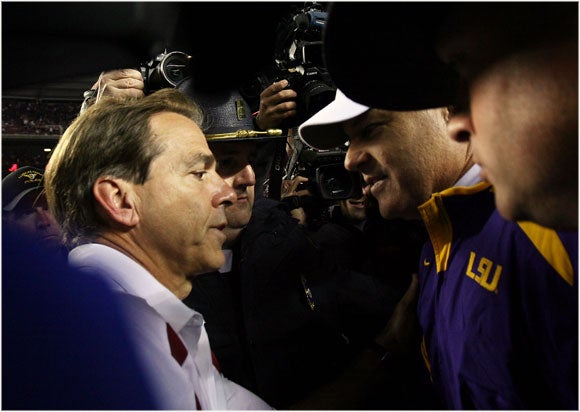 Wright Thompson of ESPN hung out with some LSU fans two weeks ago for the Georgia-LSU game. Not surprisingly LSU fans were focused less on Georgia and more on their hate for Nick Saban. The result is a rollicking story of what happens when you get dumped for a hated rival and then your former coach rips Cajuns by making fun of coonasses . "As the drinks start to flow, so does the level of anger. There are jokes, both innocuous and disturbing (like Ragoo opining about what some of his less-civilized brethren might do with a 12-gauge should they spy Saban in the Bayou). "If I were him I'd be very discreet," Ragoo cracks. "He might not make it back." Just a healthy rivalry. I'm sure Alabama quarterback John Parker Wilson knows all about how beloved he is in Baton Rouge after the phone calls he got this week. So cute and funny, those death threats.
Saban took the Bama job the day LSU played in the 2007 Sugar Bowl, and signs such as "Saban is a D-Bag" popped up in the French Quarter. Back in Miami, the coach was speaking to reporters off the record. He repeated a story a friend, who Saban said happened to be on LSU's board of trustees, told him—a story that ended up taped and played on the radio a few weeks later. Here it is: "He was walking down the street yesterday before the Sugar Bowl. He calls me. There was a guy working in the ditch, one of those coonass guys that talk funny. I can't talk like them, but he can. Most people in Louisiana can. He says, 'Hey, you see where Coach Saban signed up with Alabama?' You know, however they talk. And the board of trustees guy says, 'Yeah I saw that,' and he says, 'That son of a b—, I feel like he's f— my wife.'" It didn't matter that Saban was trying to be funny, or that a lot of people use the word coonass. A segment of LSU fans heard ditch-digging coonass and saw red. "Cajun people are proud," Ragoo explains. "When they perceive that you're putting them down and making fun of them, they become focused and galvanized about kicking your ass."
The thing people don't get about SEC fans? Even the ones who can correctly use the word galvanized after downing a bottle of Jack want Saban dead. This game is going to be ugly and beautiful at the same time. Like a gang bang starring Pam Oliver.
Hating Nick Saban
[ESPN]