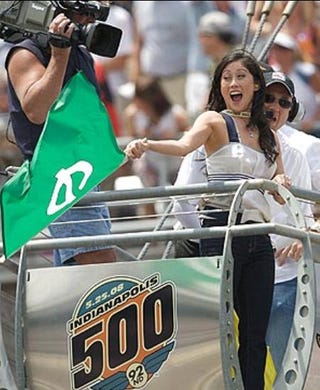 • 12:00 —
Sport: College Football - Michigan at Minnesota [ESPN] and Ohio State at Northwestern [ESPN2] - Your Big Ten liver warmups. (Also, Baylor at Texas on FSN and Syracuse at Rutgers on ESPNU.)
• 3:30 —
Sport: College Football - Alabama at LSU [CBS], Stanford at Oregon [FSN], and Regional Potpourri Theatre (Clemson at Florida State, Oklahoma at Texas A&M, Penn State at Iowa, Your Mom at Our Pants) [ABC].
• 4:00 —
Nonsense: Kristi Yamaguchi Friends and Family [NBC] - Special guest star: KITT! He rips through a barnburner version of "Mister Zamboni Man" that will leave your toes tappin' and your foot fungus in the rental skates for the next person. (Honestly, Kristi would open a 7-11 in East Flatbush if you asked nicely enough. And maybe the East Flatbush Herald-Yanker will send a photog?)
• 4:30 —
Sport: Auto Racing - Nationwide Series: Hefty Odor Block 200 [ESPN2] - Daddy always said we couldn't drive our way out of a Hefty Odor Block bag. Daddy always took care of his sponsors.